Centre DeMarcus Cousins returned to the lineup after missing the previous two rounds with a leg injury, but he struggled to move defensively and scored just three points.
After a western conference finals in which they enjoyed oceans of space and played at light speed, the Warriors laboured through half-court possessions and never got out much in the open court. Raptors coach Nick Nurse promised that his pregame speech would be centred on transition defence, and his words landed.
The Warriors managed just 17 fast-break points, many coming in a futile late flourish, and never seized control of the game flow. Despite the need for more impact from the bench Warriors coach Steve Kerr chose not to use Australian centre Andrew Bogut, preferring to start with Jordan Bell.
Curry did his best to force the issue, scoring a game-high 34 points and getting to the foul line 14 times, but the balance around him was lacking. Only three Golden State players scored in double figures – Curry, Klay Thompson and Draymond Green – as Toronto's scrambling help defenders did well to cover for each other.
Toronto enjoyed an energy advantage all night.
An expectant crowd can carry a team or swallow a team; in this case, the Scotiabank Arena fans, some of whom began lining up for two days, lifted the Raptors.
Raptors fans delighted in heckling ESPN analyst Paul Pierce, a former nemesis, and cheered enthusiastically as the franchise's former stars, including Tracy McGrady and Damon Stoudamire, were acknowledged before the game. Sensing their opportunity, the Raptors launched eight of their first nine shots from beyond the arc, making it clear from the start that they had no plans to engage in a feeling-out process with their opponents.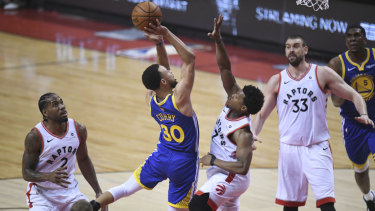 Die-hards in full-body dinosaur costumes roamed the arena's exterior, and the rowdies inside repeatedly exploded in appreciation for Pascal Siakam, who led the Raptors with 32 points and eight rebounds. The crowd reached deafening levels in the game's final minutes, as Kyle Lowry hit a dagger three-pointer to finish off the win.
Starting out a series on the right foot is critical for any underdog, but especially this one. The Raptors, after all, must contend with the possibility of a Durant return and with Kawhi Leonard's uncertain health. Leonard, the driving force of Toronto's postseason offence, finished with 23 points but shot just five of 14 from the field and seemed to be limited, at times, in his explosiveness and top-end speed.
Loading
Centre Marc Gasol stepped up to compensate, scoring 20 points and holding his own defensively on Curry away from the basket. Fred VanVleet added 15 points off Toronto's bench and diligently chased Curry through screens. Those contributions, plus the staunch defence on Golden State's supporting pieces, proved more than enough to survive an off night from Lowry.
Durant, whose half-court shot-making carried the Warriors through dry spells early in the play-offs, wasn't around to bail them out. Golden State went 5-0 in its first five postseason games without its all-star forward, but the game-one defeat underscored his value.
Faced with long and active defenders, the Warriors looked naked without their security blanket.
If the Raptors opened this series by convincingly proving they were ready for the pressure, the Warriors must now confront their biggest question: Can they score enough, and win this series, without Durant?
Washington Post