"Sometimes with the [lack of] runner, it's difficult to get some adjustments on ground, so some things we want to get done don't get done. They're trying really hard some of our players, to execute some of these things, but there's a lot of learning to go on," Bolton said.
"But what I love about the group [is] they haven't lost belief, they're building resilience. The biggest worry is when you aren't getting effort. By and large we're getting effort.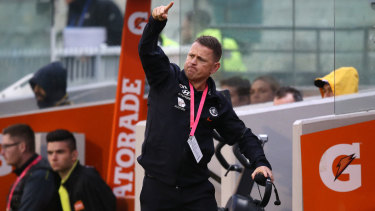 "[My faith] isn't wavering.
"Every year we've gone younger, because we've had to go to the draft. In time hopefully those young guys get into that 100-150 game bracket, where they can really perform and we get more mature players around them. That's the next step of that build."
Under siege, Bolton said he remained unbowed, and wouldn't stress about his own future, choosing instead to spend his time with the aim of improving those around him.
Loading
"I'm human, I'm frustrated, I'm determined as ever, invested in trying to help our staff and players," he said.
"[But] my main worry is not about myself. I think what happens is, if you're under pressure, or you're feeling heat, the easiest thing to do is to go internal, and internalise. One of my strategies is go and do something for somebody else, and then you think less about yourself. Let it be a review with a player on Monday, let it be a conversation about their game, talk to a coach, go out and do some more touch with players, that's what you should do…that'll be my approach."
Veteran Dale Thomas had 32 disposals for the Northern Blues in the VFL on Sunday after being dropped following a drinking indiscretion in the lead-up to the round 10 game against St Kilda. Bolton said it was the least Thomas could do.
"Considering the scenario we were in, I'm glad he responded that way. He let us down, and he had to respond," Bolton said.
Loading
"All of us are disappointed, he included. Daisy's been around the traps for a long time. He's invested in our kids, he's been invested in our footy club. He made a very, very poor error of judgment, got carried away in the moment."
Bolton wouldn't declare whether Thomas would return for next Saturday's game against the Brisbane Lions at Marvel Stadium.
Meanwhile Bolton defended co-captain Patrick Cripps, who was kept to just 11 disposals by Essendon tagger Dylan Clarke.
"Crippa played a really selfless role in and around our structure today. I know he never got a lot of the ball. He's been tagged heavily, that happens."
Having endured his own week of intense media scrutiny, Bombers coach John Worsfold expressed empathy towards Bolton.
"I feel for Brendon Bolton as well. I understand the age demographic of their list," Worsfold said.
The Bombers hit their round 12 bye with a 5-6 record, and are hopeful of regaining Orazio Fantasia, Dylan Shiel, Mitch Brown and Jake Stringer after the break.
Daniel is an Age sports reporter