The statement indicates the project had clear problems months before Lendlease told the market it needed to take a $350 million hit in its accounts from the troubled NorthConnex project, and two Queensland projects the Gateway Upgrade North and Kingsford Smith Drive upgrade.
ASX-listed companies like Lendlease have a legal requirement to tell their investors immediately of any signficant change to their business.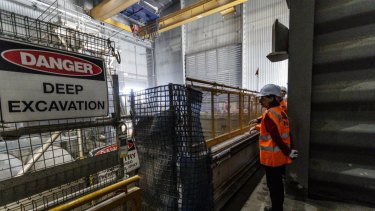 Bouygues did not respond to inquiries. The amount of the profit downgrade does not appear to be referenced in the accounts for that year or the next, which sources say could indicate the lack of materiality of the profit hit.
Following the November announcement Lendlease's shares dived to $14.25, having closed trading a day earlier at $17.45. The share price rout sparked a class action by investors that is currently before the Federal Court.
In that case Maurice Blackburn alleges Lendlease knew of problems at the projects well ahead of its announcement and withheld information from the market. The construction giant is vigorously defending the class action and strenuously denies the allegation.
Lendlease did warn the market of "some challenges in a small number of projects" without naming NorthConnex in its engineering division in October 2017 and again at its annual meeting in November that year.
The NorthConnex project suffered further deterioration in profitability due to unforeseen events.

Bouygues Construction Australia accounts
Lendlease's shares fell again on Friday, dropping 2.3 per cent to $13.03 after hitting low as $12.91, following revelations by The Age and the Herald that the Melbourne Metro rail tunnel project could face a cost blow out of as much as $2 billion.
That news followed findings by the Victorian auditor-general this week that the early stage works on the project had exceeded its original budget by $149.5 million.
Lendlease chief executive Steve McCann declined to comment on any specific projects when interviewed recently by The Age and the Herald to mark his ten years at the helm of one of Australia's biggest companies.
Loading
But he did allude to some issues in the risk-reward equation for major infrastructure players, where nearly all the risk of delays and cost overruns are worn by the private sector parties.
"We have been quite open with government about our view of the risk profile of the industry and the different projects," Mr McCann said.
"Fundamentally, different types of risks are managed best by different parties and our view is that risk should sit where it can best be managed and get the most efficient outcome for everybody."
Sarah Danckert is a business reporter.