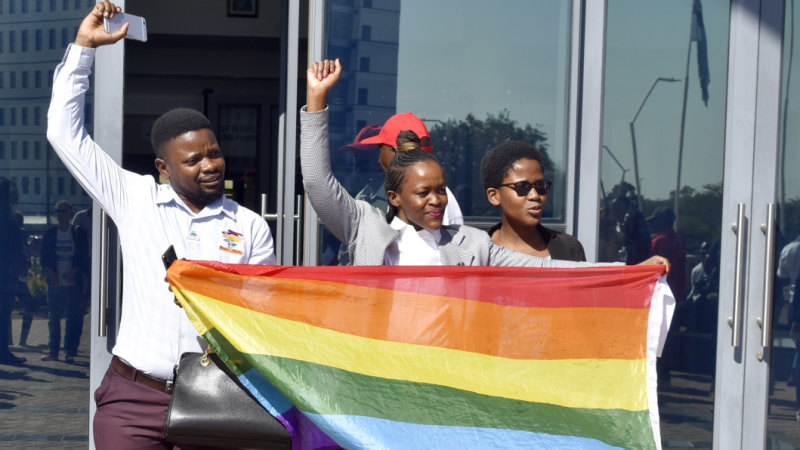 The Botswana-based non-governmental group LEGABIBO, which supported the anonymous petitioner in the case challenging the sections of the penal code, has said such laws "infringe on basic human dignity."
Tuesday's ruling led to rejoicing from rights groups that had expressed frustration with the Kenyan decision last month, including ones in countries such as Nigeria, Uganda and Ghana where gay sex remains illegal.
Botswana's High Court said in its ruling that penalising people for who they are is disrespectful, and that the law should not deal with private acts between consenting adults.
The right to privacy includes sexual orientation, which is innate and not a "fashion statement," the judges said.
The ruling also cited the recent decriminalisation in India and elsewhere. It also pointed out that all three arms of Botswana's government have expressed the need to protect the rights of the gay community.
Ahead of the ruling, LEGABIBO shared a comment attributed to President Mokgweetsi Masisi: "There are also many people of same-sex relationships in this country who have been violated and have also suffered in silence for fear of being discriminated. Just like other citizens, they deserve to have their rights protected."
Botswana in recent years has taken other steps toward protecting LGBT rights. The High Court in 2017 ruled that the government should issue a transgender man documentation reflecting his identity. And in 2016 an appeals court ruled that LEGABIBO could register as a nonprofit.
"It is a day to celebrate pride, compassion and love," UNAIDS executive director Gunilla Carlsson said in a statement after Tuesday's ruling. Prohibitive legal environments increase the vulnerability of gay men, transgender women and others to HIV, the statement said.
AP