Currently, most countries' football federations and the global body, FIFA, preside over a system that  separates males and females at a certain age. England's Premier League, for instance, mandates that men and women can only play officially in non-gender specific teams before the age of 18 (changed from 16 in 2016 in a possible nod to those favouring mixed gender football).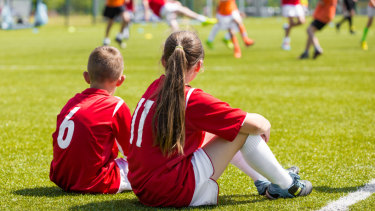 FIFA, meanwhile ensures that national football competitions are gender-specific. In 2004, the governing body blocked a move by second-division Mexican club Celaya to sign top female player Mirabel Dominguez for the men's team. Despite more attention given to female football, FIFA still legislates to ensure men and women cannot play on the same team at professional clubs or at national level. Football Federation Australia follows FIFA's lead.
So, what's  the problem?
Beyond the usual stick-in-the-mud bleatings about men and women sharing locker rooms or of women breaking into the sweaty male sports domain that many men still consider to be their right to monopolise – and aside from some cultural sensitivities, such as putting Muslim women and men on the same team – the debate comes down to claims of a) women's lower technical standards and b) physiology.
It is without doubt that boys are encouraged more into sport at an early age and that, largely due to the professional potential to which they can aspire, facilities and training for boys in most sports is superior to that offered to girls. And  gender separation in the late teens is just the point that technical skills really come into focus.
Loading
Physical strength? Men may, generally, be physically stronger, but football is not a game of strength. It is often more about balance. Many of the world's best players – let's say Messi or Ronaldo – are not great because they are strong, but because they can, superhumanly, "keep their feet" at speed.
Watching high-level women's football, I enjoy the lack of overt physicality, and in particular the rejection of ref badgering and diving. In some ways, it's a cleaner, more flowing and purer game to watch.
Why not test the concept of mixed-gender teams? How about a season opener, such as the NRL's Indigenous All-Stars format, for next season's A-League kick-off? A format of a mixed-gender squad of seven men and seven women, with unlimited interchange, might work, perhaps on a Locals v International All Stars or North (Hemisphere) v South.
Perhaps we can begin righting the World Game, which today remains skewed against half its population.
JJ Rose is a writer, sport-for-development charity founder, and former youth trialist with English clubs Aston Villa, Coventry City and Wolverhampton Wanderer.