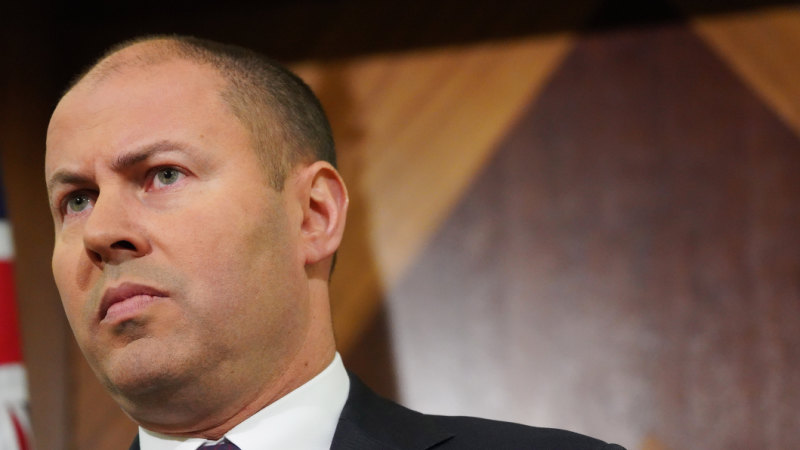 When asked by an attendee if he would consider pushing back the budget surplus, projected for next year, if the economy continued to weaken, in line with economists predictions, Mr Frydenberg was unequivocal.
Loading
"No. And I can spell that," he said to audience laughter.
"We took to the election our budget commitments and we will faithfully implement it. In fact, my first priority is about implementing our election commitments."
He said the government's $158 billion tax cut package would provide a boost to household incomes. The latest national accounts showed a further weakening in household spending, with consumers saving more and cutting back on things like dinners and new household items.
"We can do all that while paying down debt, it's important to create these buffers," he said.
Loading
Australia's rate of GDP growth is at 1.8 per cent and is now at its slowest pace since September 2009 – one year after the collapse of Lehman Brothers which prompted the then Rudd government to introduce two massive stimulus packages to boost spending at the expense of Labor's pledge to deliver a budget surplus.
When pressed by The Sydney Morning Herald and The Age if there were any conditions that would cause him to change his mind and consider his own stimulus measures the Treasurer said: "We remain absolutely committed to the surplus."
He said Australia's GDP growth was still high by international standards and it was important to keep that in perspective.
"Now we always want that to be higher but we're growing faster than Canada, the Euro area and Japan,
"The labour market remains strong but we face real challenges and that's why we're responding with our economic plan that's set out in the budget."
The Treasurer said the "slight slowdown" in productivity growth and flatter wages growth was not unique to Australia but part of a "global phenomenon".
"So what this trip has reaffirmed to me is we need to maintain the course, stick to our economic plan, set out in the budget which is all about a growth agenda," he said.
Latika Bourke is a journalist for The Sydney Morning Herald and The Age, based in London.