He was seeking $48,000 for his case, which went to the High Court this year, but he has so far received about $5600.
Although his High Court challenge failed, he said all donations were still going towards his legal fees.
There had been no pressure to remove his campaign.
"I don't know if that is because nobody had noticed or not," he said.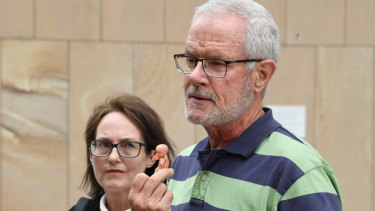 He said he had chosen GoFundMe as a platform because it was the first to come to his mind, rather than for any explicit free speech purpose.
Loading
"I just knew of them and chose them. There was no particular reason," Mr Preston said.
Just as a page supporting a LGBT documentary to counter Mr Folau's fundraiser remains on GoFundMe, so too do other pages to fund individual women's abortions and increase access to abortion services are also available on the platform.
But GoFundMe has banned numerous other campaigns overseas as it grapples with what campaigns to allow and what to ban.
In the United States it has taken down campaigns to support far right militia, anti-vaccination campaigners and police officers accused of killing an African American man.
In its terms and conditions, the site forbids fundraising for numerous purposes, including "intolerance of any kind" as well as "any other activity that GoFundMe may deem in its sole discretion to be unacceptable."
Earlier this year the site removed a fundraising page for a far right militia group called the 'United Constitutional Patriots' that detained immigrants at gunpoint at the United States' southern border.
A self-described commander of the group, Mark Cheney, said the move "killed" his group. "I have to find some other way for people to donate," Mr Cheney told BuzzFeed News in the United States.
In 2015, the site took down a fundraiser for six Baltimore police officers accused of killing Freddie Gray, a 25-year-old African-American man whose death helped spark the Black Lives Matter movement.
And, in March this year, the site announced it would ban anti-vaxxers from its platform after reports some had raised tens of thousands of dollars on GoFundMe.
"We are conducting a thorough review and will remove any campaigns currently on the platform," a GoFundMe spokesman said at the time.
GoFundMe was contacted for comment.
Nick is a journalist for The Sydney Morning Herald.