Police allege Mr Tran, a mid-to-high level drug supplier, was lured to a quiet suburban cul-de-sac by at least three people he knew and shot dead just after 10.30pm almost three years ago.
Loading
That night police responded to reports of an argument and at least three gunshots on Jasmine Crescent, Cabramatta, where they discovered the lifeless body of Mr Tran riddled with bullets.
Investigations later revealed Mr Tran, then 24, had driven to the location in a white Volkswagen Golf, which was driven away from Jasmine Crescent immediately after the gunshots rang out.
Five days later, on July 7, the car was discovered engulfed by flames in the car park of the Greystanes Hotel, while two black gloves, a broken matchbox, loose matches, a fuel can nozzle and a red jerry fuel can were found close by.
Soon after, forensic examinations revealed a fingerprint on a glove and the nozzle of the can belonged to Mr Kinoial.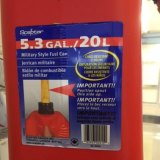 The DNA evidence, coupled with the findings of a lengthy search and a number of anonymous tips to CrimeStoppers prompted the arrest of Mr Kinoial in 2018.
Police allege Mr Kinoial was the person, seen by a witness on July 7, running from the Greystanes Hotel carpark to a waiting car on Merrylands Road, which drove from the area without headlights on.
According to court documents, it is alleged Mr Kinoial doused the Volkswagen in petrol and lit it on fire, before running to the waiting car, in which he was driven to the home of Kevin Ly.
Ly, who remains a key suspect in the murder investigation of Mr Tran, was one of two people sentenced to at least 30 years' jail last month for another murder; that of a drug lab cook and his girlfriend in Sydney's south-west in 2013.
Ly had been in phone contact with Mr Kinoial in the hours before the Volkswagen went up in flames, taking the university student to his home to allegedly "prepare for the arson", according to court documents.
Police allege Ly likely wanted the vehicle destroyed because it contained evidence of Mr Tran's murder.
Among the facts already alleged by police are the contents of a letter, written by Mr Kinoial to Ly, who was by then in jail on another matter.
In the letter, which was sent to Ly about seven months after Mr Tran's death, Mr Kinoial described Ly as the "older brother that I never had", apologising that he had been unable to visit.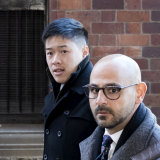 "You taught me loyalty and I know how important that is to you so I've learnt to be loyal to the close ones," Mr Kinoial allegedly wrote.
Mr Kinoial, who is currently on bail, appeared at Parramatta Local Court last week, represented by his lawyer Omar Juweinat, who made an application for an extended adjournment.
He argued that, given the ongoing complexity of the matter, it would be in the interests of all parties that further time be allowed.
Outside court Mr Juweinat declined to comment.
The property damage case has been adjourned until next month.
A police spokeswoman said investigations into the murder of Mr Tran were continuing.
Lucy Cormack is a crime reporter with The Sydney Morning Herald.