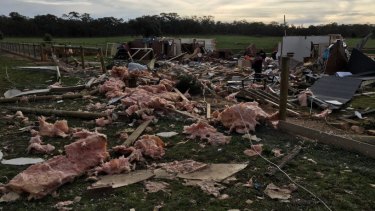 "It was quite surreal to see, especially looking through the forested area behind their property where there was pieces of metal, clothing strewn up in the trees. All of the insulation from the roof was just spread through the forest behind like fairy floss, wrapped around trees."
The Enhanced Fujita scale, which rates the intensity of tornados, measured this one as an EF2. It brought wind gusts stronger than 200km/h and caused considerable damage.
Mr McGibbony said most of the 30 to 50 tornadoes that hit Australia every year were from supercell thunderstorms in the summer months.
"Separate to that are coldies, which are nowhere near as tall," Mr McGibbony said.
He said coldies did not rotate as intensely as a tornado from a thunderstorm. They consist of very narrow rotating colums of air that move across the ground at 50 to 80km/h, normally last just 10 to 30 minutes, and damage less than a kilometre to several kilometres.
Most tornadoes hit rural areas and often go unnoticed.
Mr McGibbony said Mr Eve had staples in the back of his head from where a brick smacked him, but that the family was "in amazing spirits" nonetheless.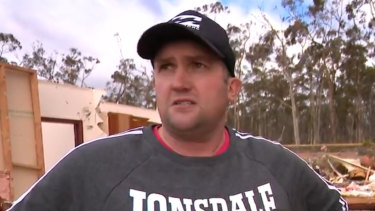 Loading
"He's very, very lucky," the forecaster said.
A GoFundMe page was set up to support Mr Eve, his wife Rachel and their one-year-old son, and had raised more than $28,000 by Tuesday night.
According to the page, the family have signed a lease on a house just down the road.
"They are in incredibly positive and realistic people and are focusing on the things that they can control. They have been busy dealing with the site, finding a place to live and identifying all the things they need to replace," according to an update in the GoFundMe page.
"I am hoping we can cover the rent through this site as well as a little extra to replace clothes, basic kitchen needs and bed and bedding for the family."
Rachel is a breaking news reporter for The Age.