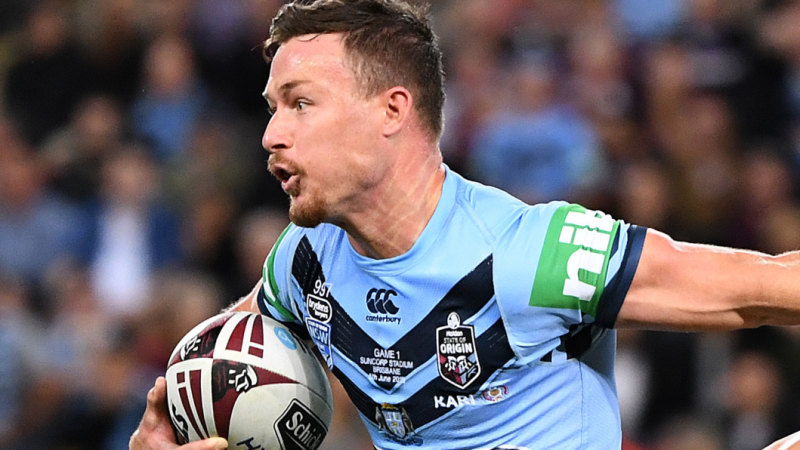 Cook was naturally relieved when he found out how vocal Pearce was on the field, while he also told the Herald Maloney was likely to take priority if both happened to demand the ball.
''They're both dominant, they've both vocal and you can certainly hear them,'' Cook said after Thursday's hit-out at the Blues' Sydney Olympic Park HQ. ''When they want the ball, it's a simple case of, 'Cooky, give it to me'.
Loading
''They both like to push up if I jump out. I watched Pearcey play against us a few weeks ago, he loved jumping out down the short sides. Him and Jimmy are very good at pushing up and are two of the best support players.
''I could still hear Pearcey and what he was doing when we played Newcastle. I'd probably give it to Jimmy [if both called for the ball]. We won't change the way we play. We lost Nate [Cleary]; Pearcey has come in and will do what he does.
''Jimmy has done a great job guiding us around. And you don't want Pearcey thinking there's any extra pressure on him or he needs to run the team around – we just want him to come in and play the footy he's been playing.
''If they both call, it will also depend if they've got 'Teddy' [James Tedesco] with them. I need to get my numbers right, look up, see if the defensive line is one short or a bit spaced out and then back them to do a job.''
Loading
While league Immortal Andrew Johns spoke with Pearce when he first arrived into NSW camp on Wednesday night, the first time the Blues ''spine'' came together was remarkably at training.
''And we just let it happen – everything fell into place and it went well,'' Cook said. ''We basically did it on the run and let it happen.''
Cook and Tedesco carved up Queensland in the middle during game one, especially in the opening half. The pair have speed to burn and unbelievable fitness levels.
Yet for all the trouble he caused in attack at Suncorp, Cook was happier with his efforts in Perth where he fired early ball to Maloney and Cleary – then Graham – so they could utilise the outside backs.
Christian covers rugby league for The Sydney Morning Herald.