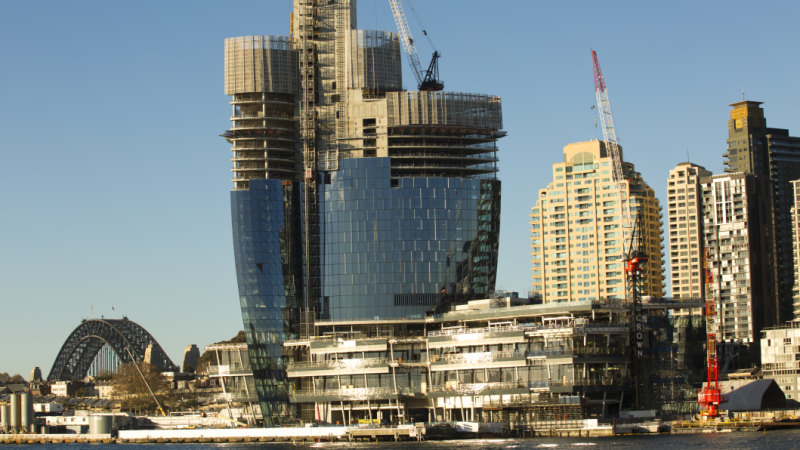 The number of parking spaces would also grow by 31 to a total of 641 parking spaces – an amount the City of Sydney says is "excessive and counter to sound urban planning and concept plan principles".
Under the revised plans, there would be 37 fewer visitor spaces but an additional 21 valet spaces and 47 residential spaces. An extra 19 bicycle parking spaces would be provided.
Loading
"The overall parking rates proposed in the development are noted to be almost four times higher than similar sites in surrounding areas subject to provisions set out by the Sydney local environment plan," the council said in its submission.
"Encouraging excessive car use into the area will have the potential to lead to increased conflicts between pedestrians, cyclists and vehicles and reduce the amenity for people using the precinct."
The council said the boost in parking spaces was also at odds with the "significant investment" in public transport in the area, which is close to train and ferry stops and the future Metro station.
In its submission, the council raised objections to "the proposed modifications to the approved design, particularly in regards to the public domain and building interface fronting the waterfront promenade, wind mitigation impacts at the ground level, transport and traffic impacts and potential social impacts".
Crown's proposal for two-to-five bedroom units "made no effort to provide an adequate dwelling mix" and the lack of affordable or key worker homes was "not in the public interest", the council said.
"The proposed residential component of the site fails to achieve various design principles … primarily in terms of providing inadequate private open space and relying on an outdoor terrace also used by VIP hotel members as 'communal open space'."
Last month, Cr Moore said the proposed changes to the tower complex added "insult to injury" and sacrificed public land "so private interests can profit from selling apartments to millionaires".
Crown Resorts said it was seeking to increase the number of apartments and parking spaces at the site in response to "market feedback" on the luxury residences at the tower's residential component, One Barangaroo.
A traffic and parking assessment commissioned by the developer found the changes would decrease congestion during peak hours, because residents moved their vehicles less frequently than visitors.
The casino is due for completion in 2021.