The 11-man search team of paramilitary soldiers undertook a 20-day mission, recovering seven of the eight mountaineers.
Sydney mountaineer Ruth McCance was among the climbers whose bodies were retrieved during aerial missions in early July.
British mountain guide Martin Moran, who was leading the expedition, remains missing. The search for his body was called off because of the approaching monsoon season.
"The GoPro was proved to be like the black box of an aircraft giving an insight into the last few moments of the climbers," ITBP deputy inspector-general APS Nambadia said at a media briefing, according to the BBC.
"It was mesmerising for us to see the footage."
The footage, recorded by a GoPro mounted on a climber's helmet, shows the eight climbers connected by rope as they mad their way across a mountain ridge blanketed in snow.
It includes night-time footage of India's second-highest peak, Nanda Devi, and its surrounds.
Ms McCance's toy penguin, which she took on climbing expeditions, was also recovered.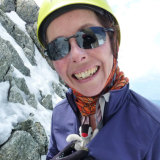 More than 300 people gathered to remember Ms McCance  at a memorial service in Sydney last Monday.
Her husband Trent Goldsack said Ms McCance "knew her limits" and was not climbing in the Himalayas to tick boxes.
"It was not only the climb itself but the strenuous preparations that were part of the personal growth and self-understanding that Ruth was pursuing," he said.
The international expedition was intending to make a summit attempt on an unclimbed peak when they were struck by an avalanche. They began their ascent on May 13 but lost contact on May 26.
Natassia is a journalist for The Sydney Morning Herald.