In actual real world viewing, the R7 did a reasonable job in producing a pleasing picture. There's a new chip on board to handle upscaling of HD content and, while it doesn't match the high bar set by Sony televisions, it is an improvement over last year's televisions from Hisense. The TV will also auto-detect when you're watching sports and enable sports mode for greater clarity during fast motion.
Dolby Vision, with its ability to optimise the picture on a frame-by-frame basis, provides a much more enticing and nuanced picture than HDR10 and the difference is night and day even on a mid-range set like the R7. My main criticism of the R7 is that it crushes the blacks which means you don't get as much shadow detail, as illustrated by this scene from Netflix's Mowgli Legend of the Jungle.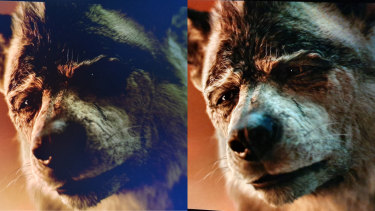 The R7 also doesn't handle reflections well, which is an issue for a brightly lit living room where you have to deal with sunlight during the day. Another thing to consider is that viewing angles aren't great on any LCD, and the same is true with the R7, where sitting anywhere other than directly in front of the television produces a washed out picture.
The R7 is powered by Hisense's own VIDAA U smart TV platform and the new version 3.0 adds a couple of notable features, including support for Bluetooth audio. However the R7 and its included remote lacks a built-in mic, so you're going to need an Amazon Alexa smart speaker or use the Alexa app on your smartphone if you want to change TV channels with your voice. Hisense says that the R7 will also work with Google Assistant in a future firmware update, but you will need a Google Home smart speaker for that to work.
VIDAA U 3.0 lacks the features and flair found in the operating systems of competing televisions such as LG's WebOS and Samsung's Tizen. Searching for what to watch can be a bit of a chore as the built in universal search won't surface search results from the likes of Netflix, Stan and Amazon Prime Video.
Loading
The app selection is limited too, with Kayo Sports, Foxtel and ABC iView notable omissions. It's also worth noting that Apple's AirPlay 2 will be coming to LG, Samsung and Sony televisions, but Hisense isn't on that list.
On the plus side, Dolby Atmos is onboard so you can stream supported content from Netflix and Amazon Prime Video over HDMI to a connected soundbar or receiver for more immersive audio.
The R7 from Hisense is a decent mid-range LCD television and the fact that you get Dolby Vision and Dolby Atmos support out of the box is a great bonus. The problem is that the pricing of the R7, which goes to $1799 for the 55-inch model, or $2499 for 65 inches, isn't competitive enough to warrant consideration over its more accomplished contemporaries.
For instance you could go to JB Hi-Fi and pick up Samsung's more impressive mid-ranger, the RU8000, in 55 inches for $1295 or 65 inches for $2295.