The tests found cushions on the seat and behind a driver's back were riskier than those used around a seat belt to stop it rubbing, for instance.
Older drivers, aged 65 and over, are nine times more likely to be severely injured, with increased risk of chest or abdominal injuries, and die in a crash compared with a younger person.
Chest injuries are the main cause of death for older drivers,  and poorly positioned seatbelts increase the risk.
Mobility was the key to healthy ageing, said Professor Brown, and safety and health experts wanted to encourage older people to get out and about. Yet older drivers' frailty increased their risk, said Professor Brown.
NeuRa began the crash tests after 2017 research found about 25 per cent of older drivers were using some sort of accessory to make driving more comfortable.
These included seat belt padding, seat base cushions, or back support, including the ones made of large beads. Most of these have not been tested for safety.
It is not clear why older drivers are using the accessories, but the data suggests that for every year of age their use increases. Women and those short in stature are more likely than others to use them.
A mature driver, Jasmine, who withheld her real name and age, from Sydney's north said she used a rolled up towel on her car seat because she was short.
This way she could see over the wheel to the front of her car.
The driver's seat of her six-year old Corolla was adjustable up and down, slid back and forward and could be tilted.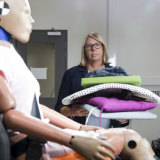 But it had bucket seats, which meant the 164-cm tall Jasmine slumped.  "I feel safer with a bit of a raise underneath me, and more comfortable that I can see the front of the car," she said.
Professor Brown said the driver's experience highlighted the need for guidelines for drivers on what accessories to use if they needed to modify their seat.
The biggest issue from using these comfort accessories was losing "some of the safety benefit of their seatbelt by changing the geometry and increasing the risk of rib and abdominal injuries."
Previous research into child safety has shown such accessories have a detrimental effect on protection provided by a restraint in a crash.
More detailed results from the tests will be made available in two research papers later this year, but the preliminary results will be used to develop guidelines for older drivers on what was safe to use.
The next phase of the project was developing guidelines to identify what, if any,  accessories could be safely used.
Julie Power is a senior journalist at The Sydney Morning Herald.