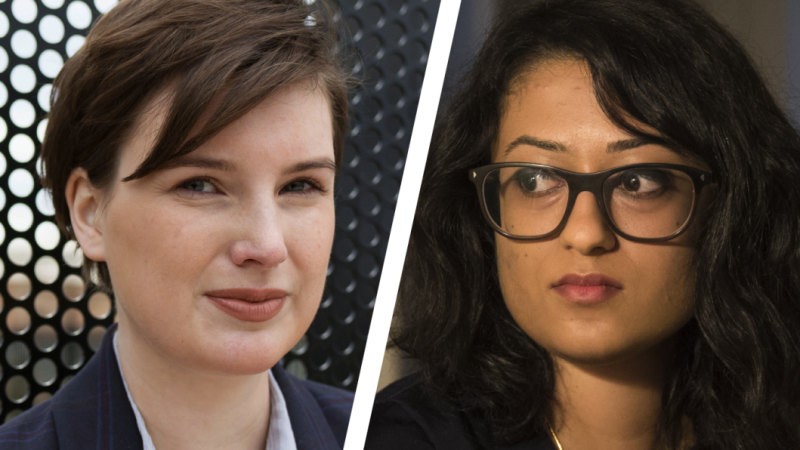 Loading
On Wednesday, Liberal Senator Arthur Sinodinos said the review, commissioned by Mr Morrison after the 2019 leadership spill, needed to be sped after reports by The Sydney Morning Herald and The Age about sexual assault allegations against party staffers.
He said the two party members, Dhanya Mani and Chelsey Potter, who made the allegations, including instances of choking and masturbation, felt their only option was to go public.
The claims set off a flurry of reactions among Liberals about the treatment of women within the party.
Party veteran Kathryn Greiner called for an independent inquiry into the Liberal Party's culture by former sex discrimination commissioner Elizabeth Broderick and former army chief David Morrison.
Ms Greiner said the boys' club culture has alienated women and created an environment that silences allegations of harassment and sexual assault.
Loading
Ms Greiner, a businesswoman who is also the wife of Liberal Party president Nick Greiner, said the party "did not know how to deal" with the allegations.
She said the prime minister should call in the experts responsible for overhauling the Army following repeated sex scandals.
"What did the royal commission say? Cultural change starts from the top," she said.
"He has to bring in Elizabeth Broderick and David Morrison."
The president of the Liberal Party's women's committee, Helen Kroger, rejected calls for a quota system, saying she did not know a "single bad bloke" in the party. Ms Kroger said the party needed to focus on identifying future female party members and mentoring them to gain preselection in winnable seats.
"Quotas are not going to fix the issue of getting more women into the pipeline. I strongly believe that is the issue," she said.
Overall, only 25.3 per cent of the Liberal Party's federal representatives are female, compared with 48.8 per cent of Labor's, 25 per cent for the Nationals and 50 per cent for the Greens.
Ms Kroger said she was appalled by the allegations reported and urged the women concerned to go to the police, describing them as a criminal matter.
"In my 40-plus years in the party … I've not had any experience of this kind of behaviour."
Senator Sinodinos told the ABC on Wednesday he wanted to talk to senior party members in the margins of Friday's meeting about "how we expedite" the existing internal review into the party's culture.
He said the party could not have a situation where people feel their "only option is to go public".
Senator Sinodinos, who will become Australia's next ambassador to the United States next year, said he could understand the alleged victims may have been reluctant to go to the police.
"It's a very galling and very public process".
Eryk Bagshaw is an economics correspondent for The Sydney Morning Herald and The Age.
Judith Ireland is a political reporter for the Sydney Morning Herald and The Age, based at Parliament House