In its submission, the City of Sydney said the metro quarter included provision for up to five to 10 per cent of the development's 700 homes to be affordable housing for 10 years.
The council said this proportion was "unacceptable" and an "inferior outcome" for residents, particularly given the local government area had a "strong need for affordable housing".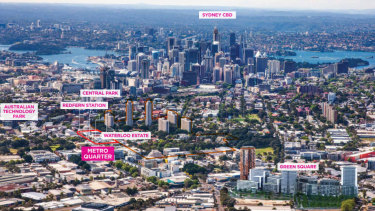 Sydney MP Tanya Plibersek said plans for the housing estate and metro quarter would "triple the density" of the area and make it "one of the highest density projects in the nation".
However, despite this increase in the overall number of homes, local community groups had raised serious concerns about the lack of social and affordable housing, Ms Plibersek said.
"Currently the development proposal of 700 apartments will only have 70 units earmarked as social housing and 35 as affordable rental units," she said.
Loading
"This does not meet the needs or expectations of our community."
Ms Plibersek said the 10-year commitment to providing affordable housing was "not in the best interests of the people of Waterloo, some of whom have resided in the area for generations".
Local community group REDWatch said the planned development should be required to meet the upper end of the Greater Sydney Commission's target range of five to 10 per cent affordable homes.
"If government owned land is not used to deliver significant quantities of affordable housing it will be difficult to see how the need for affordable housing will be met," REDWatch said in its submission.
The City of Sydney also argued that the proposal did not include open space and the towers would overshadow Alexandria Park, impacting that site's "amenity, health, usability and character".
Plans for 427 car-parks did not take the proximity of the metro station into account and should be limited to 65 spaces, while the building heights ignored the surrounding environment. The council said the proposal represented a "poorly resolved scheme".
"The renewal of the Waterloo Estate, including metro quarter, should be driven by principles that deliver integrated planning, public domain and open space outcomes, good design and a people-focused place, not a pre-determined scheme accommodating pre-determined dwelling yields."
The Department of Planning, Industry and Environment said it had heard feedback around density, social and affordable housing, open space, traffic, car-parking, over-shadowing and building heights.
Infrastructure NSW is preparing a response to the submissions, which will be assessed by the planning department and the City of Sydney.
Megan Gorrey is the Urban Affairs reporter at the Sydney Morning Herald.