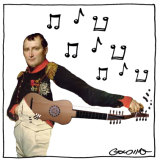 The Balcombe parents, who spoke little French, wheeled out their 13-year-old daughter Betsy to entertain the 46-year-old man who had been the most powerful leader in Europe.
"The first question he asked [Betsy], according to her account, was 'I suppose you're too young to play music' and she said 'no, no, no I play and I sing'," Dr Stephens said.
And Betsy proved it by singing Ye Banks and Ye Braes, a 1791 song about a man who seduces and then abandons a younger woman.
Dr Stephens said Napoleon called it "one of the prettiest English songs" he had ever heard, but was pleasantly surprised when Betsy told him it was actually Scottish.
According to Betsy's account, a relieved Napoleon revealed his real view: "The English wrote the vilest music in the world," he said of the country that had exiled him thousands of kilometres from home.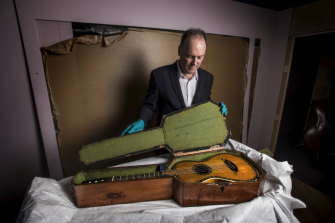 Over the next three years Betsy entertained Napoleon with her singing. It is unclear if Napoleon ever played the guitar to accompany her, if Betsy played it, or if someone else did.
But the Balcombe family's friendliness with the exiled leader, who had returned from exile to the French throne once before, displeased British authorities and the family was recalled to England in 1818.
"The family story has always been that the guitar was given to Betsy when she left," Mr Stephens said. "It's possibly true."
Alternatively, Dr Stephens said, the guitar might have been sent later from St Helena to Australia, where the family moved in 1824. The Balcombe family home, Briars, in the Mornington Peninsula still holds a large collection of Napoleonic artefacts.
Either way, Betsy, who was by then Mrs Abel, became a Sydney socialite by dint of her Napoleonic connection.
One Sydney paper called her "the interesting Mrs Abel" and she danced at parties thrown by Captain John Piper, after whom Point Piper is named.
But questions have been raised about the guitar's provenance as it passed from owner to owner across the 20th century.
In 1917, the guitar's pending sale to raise money for the war effort (it went for 100 guineas) prompted the Sydney Evening News to question its authenticity.
"There is not a word, not a hint, from any of [Napoleon's biographers] that the Prisoner of St Helena had musical moments in which he was wont to be his own minstrel and, like the troubadours of old, to 'strike the light guitar'," the paper wrote.
Dr Stephen said while Napoleon was not "that musical" himself, he enjoyed hearing others play.
The guitar will be on display from August 10 to November 17 as part of the Songs of Home exhibition, which celebrates the musical culture of Sydney's early settlement.
Nick is a journalist for The Sydney Morning Herald.
Most Viewed in Entertainment
Loading