Most of Scope's economists are in line with market pricing but some think the RBA will go even further.
Loading
ACTU senior economist Margaret McKenzie is one of several who believes the RBA may be forced into taking official interest rates to zero and considering radical efforts to boost the economy.
"It shows the limits of monetary policy for stimulating the economy. In effect (the RBA) is already engaged in quantitative easing," she said.
"But there is not much point without expansionary fiscal policy in an idle capacity situation which we are in. We cannot expect inflation targeting to do both, and it will go the way that other fashions in monetary policy have."
Just 10 per cent of Scope economists believe inflation will be back within the RBA's target band of 2-3 per cent by the middle of next year, with some arguing it could be lower than its current 1.6 per cent level.
RBC Capital Market's Su-Lin Ong believes the RBA will slice official rates to 0.5 per cent some time next year.
Sometime over the next 12 months, especially if domestic data continues to disappoint, the Reserve will start openly talking about alternative measures to boost the Australian economy.
"Given the resumption of policy easing globally and likelihood of limited policy traction from a lower cash rate, we think it likely that the RBA will need to adopt some alternative measures in the coming years tailored to Australian dollar circumstances," she said.
St George economist Besa Deda believes the low point for rates will be 0.75 per cent but adds there was a real chance of them going to half a per cent.
She said if they have gone to 0.5 per cent then the RBA will start thinking of other ways to get the economy growing rapidly.
"It is our belief the RBA will only resort to alternative measures of stimulating economic activity if cutting interest rates no longer has the desired impact of bolstering both economic growth and inflation pressures. The RBA will not take on quantitative easing lightly," she said.
"The RBA is also likely to continue putting pressure on the Federal government to do more heavy lifting in bolstering economic activity."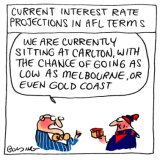 But Stephen Koukoulas, who was one of the few economists to tip the RBA would be cutting interest rates this year, said people should start preparing for when rates have to rise.
He said believes the RBA is now at the bottom of the cycle and will sit tight for the next 9 to 12 months.
"It is probable the market will be pricing in the risk of a monetary tightening from around the middle of 2020," he said.
Shane is a senior economics correspondent for The Age and The Sydney Morning Herald.
Eryk Bagshaw is an economics correspondent for The Sydney Morning Herald and The Age.