There is still much to be done for Australia to assume a position of strength here but one factor in their favour is England are a bowler down, with James Anderson hobbling around with the bat briefly on Saturday but not bowling due to a calf injury. It is a significant blow in the context of the series and the match for England, whose decision to include him at Edgbaston has backfired.
"The message is for the boys to just try and bat as long as we can tomorrow and score as many runs as possible," fast bowler James Pattinson said. "Obviously the ball is bit older now, over 25 overs, hopefully it will stop doing as much and Smudge [Smith] is there. Smithy's batting unbelievably."
While Smith was once again in the zone David Warner and Cameron Bancroft completed forgettable Test comebacks of their own when they were sent packing for eight and seven respectively.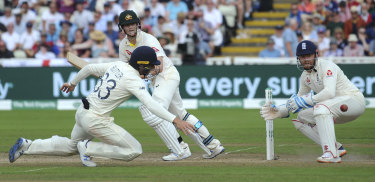 Warner was undone by Stuart Broad in the third over the innings, failing to get his bat fully out of the way of a rising delivery from the towering seamer and nicking it to Jonny Bairstow, while Bancroft had few ideas against Mooen Ali, who had the opener caught by Jos Buttler at short leg when he ventured well out of his crease.
Khawaja's near run-a-ball contribution late in the afternoon was then halted by Stokes, whose second ball of the innings seamed back and took a fine edge en route to the gloves of Bairstow.
England tried some funky field placements in an effort to thwart Smith on Saturday and know he is the key.
"He's obviously a world-class player and we've got to find a way to get him out," seamer Chris Woakes said. "I think on this surface in particular, it's hard to force the issue as a bowler.
"The pace has gone out of the pitch so you almost have to build pressure and find ways to build pressure … to make sure the batsman makes a mistake. But Steve doesn't make too many mistakes so we've got to find a way. We'll obviously look at a few plans overnight and see what we can come up with."
Australia had trailed by 90 after England's first innings was booted along to 374, thanks largely on Saturday to a critical stand for the ninth wicket between Woakes (37 not out) and Broad (29).
Loading
Having torn through England's middle order before lunch as the hosts lost 4-18 to slip to 8-300, Australia's fast bowlers curiously refrained from bouncing Broad until the No.10 batsman and Woakes had put on 65.
An over of short stuff from Pat Cummins (3-84) ultimately brought reward as Broad, all at sea, skied a ball to Pattinson at fine leg. But it was hard to escape the conclusion that Australia had left it too late.
Broad is known to have been highly uncomfortable against such tactics since he had his nose badly broken when a bouncer sent down by India's Varun Aaron careered through his grille five years ago.
"I was a little surprised they didn't attack him once he came in… a bouncer barrage," former Australia paceman Glenn McGrath told the BBC. "Once they did that they got him out, but he got too many runs."
Loading
Pattinson said the instructions were to bowl to the tailenders just as they would to the top order and stem the flow of runs, adding that the lack of bounce in the slow pitch made it hard to produce bumpers.
"Patty Cummins was just saying that he thought the ball was almost hitting him on the toe, that's how short he had to bowl to get it up," he said.
"I think he obviously was trying to do that but the ball wasn't getting up. Once we figured out we had to bowl it a little bit shorter and almost hit you on the toe, it probably paid off."
Nathan Lyon (3-112) had earlier continued his stranglehold over Moeen, dismissing him for the eighth time in 10 attempts as the England off-spinner fell for another duck in embarrassing fashion.
After a loose shot from Stokes (50) saw him caught behind off Cummins, the Australia off-spinner stepped up to the plate with two wickets in the space of an over.
Lyon and the Australians had beaten the bat of centurion Rory Burns (133) that many times over the course of his nearly eight-hour innings that it seemed as if the Surrey left-hander might never edge one, to a fielder anyway.
Finally, their luck turned when Burns nicked a faster bowler from Lyon and Paine gloved a smart catch high to his left.
Moments later Moeen was on his way, far from the first time as a result of Lyon's bowling. The Australia off-spinner thoroughly had his number during the previous Ashes in 2017/18, knocking him over seven times in nine attempts.
He took just four balls to add to that tally in this series, with Moeen's off stump uprooted after an awful leave from the England No.8, who hadn't anticipated a straighter ball. It was the spin-bowling all-rounder's fourth duck in his last eight Test innings.
An unconvincing Bairstow also continued his poor trot, caught by Warner in the slips off the bowling of Siddle (2-52) for eight.
Chris Barrett is Sports Editor of The Sydney Morning Herald.