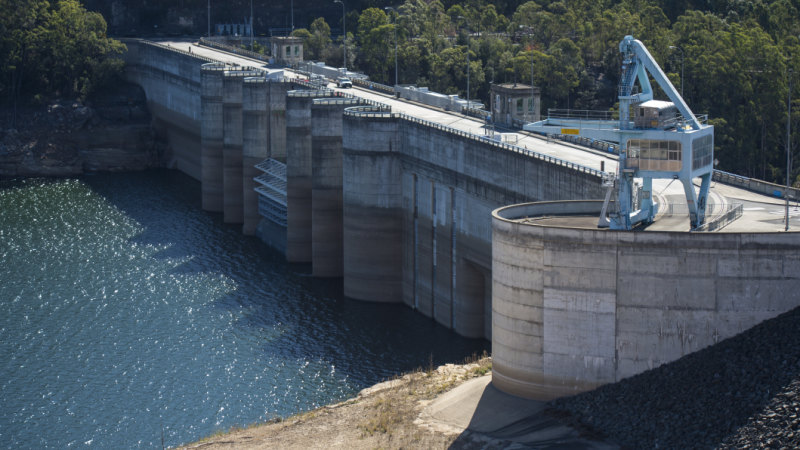 Loading
Opponents say the charts further reduce the case for raising the wall since much of the waters that could inundate the flood plain enter downstream of Warragamba from the Coxs and other rivers.
"It's a surprising result," Jamie Pittock, an associate professor at the Australian National University, said of the leaked charts. "It really undercuts the argument for raising the dam wall."
Thinking a higher wall will eliminate flood risks could "lull governments, businesses and people into thinking they are safe so they are not prepared for the inevitable big one", Professor Pittock said.
A spokeswoman for Stuart Ayres, the Minister for Western Sydney, did not address the leaked charts but said a higher wall would "create a 14-metre flood mitigation zone [that] would reduce average annual flood damages by about 75 per cent".
"The final decision to raise the wall has not yet been taken and will only take place after financial, environment and cultural assessments have concluded," she said.
'Rampant over-development'
Harry Burkitt, a campaigner with the GIVE A DAM group, said the latest leak showed "how much money the NSW government is prepared to spend in order to help out floodplain developers".
Loading
"It's now clear that raising the dam wall is not going to protect western Sydney suburbs from extreme floods as the government has claimed for several years," he said, adding that it would be preferable to build high-level evacuation roads and to curb the "rampant over-development of western Sydney floodplains that is currently taking place".
It is understood the charts do not take into account how climate change will affect the frequency or scale of the biggest floods.
With a warmer atmosphere holding about 7 per cent more moisture per decree of warming, big flood events could worsen even if they occur less often, climate researchers have said.
The charts also do not take into account the possibility that the dam wall raising will be used to increase Sydney's water supply capacity, not just flood impact reduction.
However, the spokeswoman for Minister Ayres ruled out such a move.
"Raising the Warragamba Dam wall is being considered for the purpose of flood mitigation only," she said.
The largest flood on record, according to the government,  saw river levels reach 19.7 metres at Windsor in 1867.
Peter Hannam writes on environment issues for The Sydney Morning Herald and The Age.
Most Viewed in Environment
Loading