They face barriers including stigma and discrimination, long waiting lists, no Medicare cards and no money to pay for treatment or medication.
"There has been a move away from bulk billing at a lot of private clinics," Dr Coles says.
Those that do bulk bill tend to have a high turnover of patients with short consultation times, which do not suit those experiencing homelessness, who often have complex needs.
"A lot of clinics can be very unwelcoming places," Dr Coles says. "I once heard a doctor saying 'we don't treat those sorts of people here'."
Every Wednesday for the past 18 months, Dr Coles, community health nurse Vaan Phongsavan and a social worker have provided free medical services out of an outreach bus to homeless patients.
In the middle of Melbourne's winter, Ms Phongsavan's "uniform" is a puffer jacket and fingerless gloves. The outreach service has never been cancelled because of the weather.
"I'm often sitting in an exposed laneway with a laptop triaging patients," Ms Phongsavan says. "You are working out of your comfort zone with everything you need in a backpack. Our homeless, marginalised clients don't have time to wait."
The Green Cross outreach bus has visited caravan parks in the western suburbs, St Mark's Community Centre in Fitzroy and boarding houses.
On Tuesday, Lord Mayor Sally Capp will announce the City of Melbourne will invest $200,000 to enable the service to also operate every Monday in the CBD.
All patients are eligible for treatment, including asylum seekers and refugees, who don't have access to Medicare.
"The mobile bus service will provide services direct to rough sleepers where they are needed," Cr Capp said.
The team is able to treat many patients on the spot, suturing wounds, immunising against the flu and screening for diseases such as cancer.
"One of the exciting things for me is being able to treat Hep C entirely from the bus," says Dr Coles. "This was a disease that made people sick for a very long time and created stigma and it can be cured in up to 12 weeks."
Other patients are referred to Cohealth's clinics throughout Melbourne, which offer services including dentistry, podiatry, mental health and drug and alcohol services.
Four years ago, Tim Williams lost his job and his house and broke up with a girlfriend. "It was just a snowball effect." He clicks his fingers. "Just happens like that."
Mr Williams, who is now back in long-term housing, was first treated by Dr Coles at a crisis accommodation centre in North Melbourne in May last year. He has since seen the GP twice on the mobile bus and once at cohealth, and has been referred to a dentist.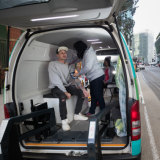 "Kate is easy to get along with, understanding and non-judgmental."
Cohealth program manager Ben Quinn said the not-for-profit community health service wanted to start a street doctor service earlier in Melbourne but struggled to find a GP.
He said the City of Melbourne funding would cover the expansion of the program and an evaluation so they could demonstrate the impact the street doctor service was having.
"We would love the street doctor to operate four or five days," Mr Quinn said.
Jewel Topsfield is Melbourne Editor of The Age.