Riot police with dogs were deployed to the railway station in Tin Shui Wai, a town close to the mainland Chinese border in the New Territories shortly after lunchtime and by evening 82 protesters were arrested. Tin Shui Wai, near the Chinese tech capital of Shenzhen, saw some of the heaviest use of tear gas by police throughout Monday. Rubber bullets were also fired at protesters throwing stones at the police station.
Police snipers on a balcony at the Government complex in Admiralty fired tear gas down onto thousands of protesters to force them back from a road they had occupied behind the Legislative Council around 5pm.
Loading
Protesters who spoke to The Sydney Morning Herald and The Age on Harcourt Road behind the legislature said they had come out on Monday evening because Lam had given no response to their demands, and the limited political system gave them no other outlet.
"Their ulterior motives are going to destroy Hong Kong, to risk 'One Country, Two System' and also to proceed to what they call revolution," Lam had earlier told reporters on Monday, her first media appearance in two weeks.
Lam's dramatic language, which accused independence activists of being behind escalating street violence, echoed a stream of recent propaganda from Beijing state media.
She said the city was "on the verge of a very dangerous situation" and the crisis in front of her "is about Hong Kong's security and safety and whether we can restore it in time".
As she dismissed speculation the Chinese military garrison would be deployed to the streets, Lam insisted the police would take a hard line on law and order, with the courts to become the "ultimate arbitrator".
"I don't think at this point in time resignation of myself or some of my colleagues will provide a better solution," she said.
She was flanked by her number two, Chief Secretary Matthew Cheung and Finance Minister Paul Chan, who warned of the economic toll of protests that are entering the third month.
Lam did not offer any olive branch to protesters calling for a controversial extradition bill to be withdrawn and for a commission of inquiry into the saga to be established to examine police conduct.
Civic party legislator Claudia Mo denied Lam's claim that the nature of the protests had changed and said Lam was trying to avoid responding to the protesters' demands.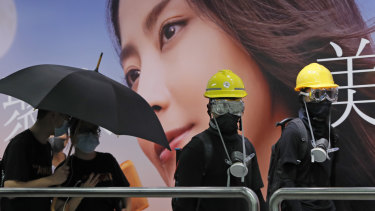 A general strike on Monday saw traffic thrown into chaos as protesters blocked roads with barricades and drove in circles around roundabouts. The subway operator MTR shut a dozen stations in the morning for safety as protesters repeatedly blocked train doors triggering alarms.
Around 200 flights were cancelled as air traffic control staff went on strike. Video showed a car ploughing through protester barricades in Yuen Long, the town where white-shirted men linked to Triads beat commuters last month.
Rallies began at seven sites across Hong Kong after lunch, which descended into chaotic scenes by nightfall. At midnight tear gas was fired from police headquarters in Wanchai after protestors broke glass doors hurling bricks.
Large crowds gathered at Sha Tin in the New Territories unfurled a banner reading "Liberate Hong Kong, revolution of our time" in the shopping plaza that had been the scene of police clashes in June.
Loading
The slogan, which has increasingly appeared in recent weeks, was the election slogan of independence activist Edward Yeung, jailed for rioting last year.
By evening protesters had set fire to barricades at Sha Tin and outside the police station at Tuen Men, with riot police attempting to clear occupied roads in Tuen Men around 10.30pm by firing tear gas.
Riot police returned to the streets of the residential area of Wong Tai Sin, west of Kowloon, for a third night in a row, after bricks were thrown at a police dormitory there. In the densely populated public housing district, children affected by tear gas were seen screaming as their parents took them inside, according to a video circulated on social media.
At Harcourt Road outside the legislature on Monday afternoon, a couple aged in their 50s said they came out after watching Lam on TV. "She won't admit that she is at fault and wants to blame the protesters," they said.
A group of insurance workers gathered on Harcourt Road also said they had watched Lam on TV. "[She offered] no reply to our suggestion," Mark, 37, said.
"There is tear gas everywhere," said Cherry, 36, of why she was angry at the police response at the weekend.
In Mongkok, the popular Nathan Road was blockaded by protestors who built fires.
Australian lawyer and author of a book on Hong Kong's protest history, Antony Dapiran, said on Twitter that Hong Kong's dangerous situation was not caused by protesters but rather a "vacuum of leadership, government inaction, failure to respond to community and acquiescing in growing rift between community and police is turning Hong Kong into a powder keg."
Democratic party legislator James To said Beijing should start looking for the next candidate for chief executive and allow Lam to step down as soon as possible.
Protesters interviewed by The Sydney Morning Herald and The Age at the weekend said public frustration was growing as the government refused to respond to their demands: A complete withdrawal of the bill and a commission of inquiry into police handling of protests.
A rally of 40,000 civil servants on Friday night, and another rally of medical staff, made the same demands.
At the weekend, clashes took place between riot police and residents in housing estates who were angered by police use of tear gas in their neighbourhoods.
Kirsty Needham is China Correspondent for The Sydney Morning Herald and The Age.