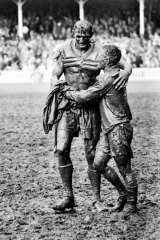 Masters is one of nine print media nominations including Ian Heads, Geoff Prenter, Peter Frilingos and John O'Gready, the former Herald photographer whose image of Norm Provan and Arthur Summons after the 1963 grand final was immortalised on the NRL championship trophy.
A further five broadcast media nominations have been announced including Ray Warren, Frank Hyde, Rex Mossop and David Morrow.
This year marks the first time in history that the NRL Hall of Fame recognises the contributions of media identities and administrators.
One media representative from each category will be formally inducted into the 2019 class during a gala celebration at Carriageworks, Redfern, on August 14, alongside one administrator and up to four players.
"We have seen so many wonderful individuals touch the game so it is fantastic to see these new categories in the Hall of Fame induction process," NRL CEO Todd Greenberg said.
"The nominations include some incredible characters. All of those nominated have had a huge influence over the game.
"The likes of Ian Heads, Roy Masters and Peter Frilingos chronicled the game and carried enormous respect and sway, while the voices of the likes of Frank Hyde, Rex Mossop and Ray Warren will forever resonate with rugby league supporters."
The nominations were selected by the History Committee, which comprised Steve Ricketts, Geoff Armstrong, David Middleton and Roy Masters, although Masters did not participate in the print media discussion.