The orchestra has begun planning the major artistic projects which will anchor their new chief's first season, Ms Dunch said. "We won't make an announcement until this time next year but believe me, we are working on it."
The SSO will use the temporary relocation to put a "contemporary spin" on the concert-going experience and attract new audiences with the introduction of a new concert format of hour-long programs presented without an interval at 7pm on weeknights. This will allow the public to hear landmark works for an introductory price of $49.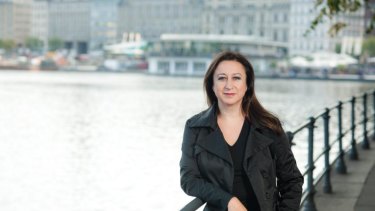 The orchestra's family concert series will find a new home at Chatswood Concourse while the SSO will present a new Classics in the City series featuring works from the baroque, classical and romantic periods rarely heard on the mainstage, taking the audience on a musical journey.
The SSO will also perform in regional NSW twice as frequently as they do now and will cross over genres with Latin inspired concerts.
Loading
In the pipeline is an expanded presence in western Sydney, as anchor tenant of the new Sydney Coliseum. And the SSO foreshadowed the launch of one of the "most significant commissioning programs in our country's history" with a strong focus on next-generation creative talent including First Nations and women composers.
In the 1950s, English conductor Eugene Goossens was instrumental in pushing for the orchestra's move from the Sydney Town Hall to the Sydney Opera House Concert Hall. Draughty, with no heating and a cavernous ceiling that muffled sound, the Centennial Hall soon after got an acoustic make-over in the mode of the Musikverein Hall in Vienna. Today the Centennial Hall is known for its acoustic experiences, Raff Wilson, Director of Artistic Planning said.
"The Sydney Symphony Orchestra will sound in that venue as never before so we've chosen repertoire to reverberate there on a grand scale," he said.
The popular Abercrombie & Kent Master Series, Emirates Metro series, Thursday Afternoon Symphony and Great Classic series will move to the Town Hall but otherwise would be unchanged.
"It's extremely important for us and we've worked very hard to ensure that those loyal subscribers of sometimes 40 or 50 years would be disrupted as little as possible by this move," Dunch said.
To celebrate the 250th anniversary of Beethoven's birth, the Sydney Symphony Orchestra will join American conductor Marin Alsop and orchestras from five continents to reimagine the Ninth Symphony.
Next September Simone Young will lead A Viennese Gala featuring the works of Johann Strauss senior and junior. Runnicles returns to lead Beethoven's monumental Missa Solemnis and an Italian Opera Gala in March, and in November will join in-demand violinist, Christian Tetzlaff, in a series of special performances. Robertson will be back to lead Brahms' A German Requiem while Ashkenazy will lead a series of performances from Scandanavia and Finland titled Northern Lights Festival.
In 2018 the orchestra played 221 concerts, the work of 21 composers, one-third of them women, to a record crowd of 315,000, live streaming its concerts for the first time to public libraries across the state.
The orchestra also secured two record philanthropic gifts of $1 million.
Linda Morris is an arts and books writer at The Sydney Morning Herald
Most Viewed in Entertainment
Loading