A joint federal-NSW taskforce, set to be announced on Friday, will explore options for extensions or like-for-like replacement of Liddell to ensure there would not be a repeat of the impact on the National Electricity Market after the closure of the Hazelwood power plant in Victoria, which Mr Taylor said contributed to an increase in power prices.
Loading
"Finding a short- and long-term solution for Liddell is one of my top priorities," he said.
"I look forward to working with Minister [Matt] Kean and the NSW government, AGL and the wider private sector to ensure the disastrous Hazelwood closure is not repeated."
One of the federal government's top energy priorities since being in office has been to avoid the "premature" closure of the nation's coal and gas-fired power stations, "and to keep them in the market running flat out", Mr Taylor said. The Coalition has previously urged AGL to keep Liddell open or sell it, calls which AGL has rejected.
AGL chief executive Brett Redman on Thursday said it "never made sense" to him to close Liddell in the middle of summer, as had been initially planned, so he had instructed his team to investigate whether AGL could support the plant until the end of summer. "And we've been able to do that," he said.
A key difference between the closure of Liddell and the 2017 closure of the Hazelwood plant in Victoria, said Mr Redman, would be the much longer notice period.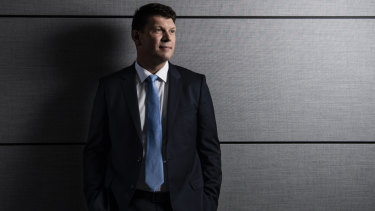 "By the time Liddell closes we will have given the market something like seven years' notice whereas the other closures … was a matter of a few months," he said.
"The closure will be well-anticipated and it will be well-foreseeable in the futures market as well as what's happening in the physical market."
Also on Thursday, Mr Redman criticised a decision by the federal energy watchdog to launch legal action against AGL and other wind-farm operators in South Australia over the dramatic statewide blackout in South Australia in 2016.
The Australian Energy Regulator alleges AGL, Neoen, Pacific Hydro and Tilt Renewables failed to comply with performance requirements to ride through major disruptions.
Mr Redman said he was "disappointed" with the regulator's decision, adding AGL was confident it had operated its wind farms in accordance with the "rules of the day" when storms sparked the series of failures on September 28, 2016, which ultimately cut SA from the rest of the energy grid.
"We operated plants according to the rules of the market in the middle of an extraordinary storm in 2016," he said. "As a result we will be contesting those allegations."
Business reporter for The Age and Sydney Morning Herald.