Under his bail conditions, the pilot is permitted to continue to work and must submit his work roster to the Hong Kong court.
Loading
Cathay Pacific told local media it was taking the safety notice issued by the regulator seriously.
The airline was founded in 1946 in Shanghai by Australian pilot Sydney de Kantzow and American pilot Roy Farrell. It flew the first direct freight service between Australia and China, bringing wool and other goods from Sydney's Kingsford Smith airport.
De Kantzow had been the chief pilot for China's national airline during the war, flying a perilous route over the Himalayan mountains to deliver desperately needed aid to the Chinese city of Chongqing during the Japanese occupation.
Cathay Pacific later moved to Hong Kong, and the two pilots sold a 45 per cent stake in the growing airline to one of Hong Kong's oldest English trading houses, Swires, in 1948.
As democracy protests continue, Swires said this week it would not tell its staff what to think.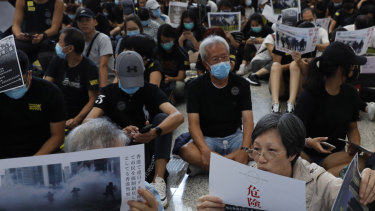 The Chinese aviation regulator's warning to Cathay Pacific came as hundreds of democracy protesters filled the arrivals hall at Hong Kong's international airport on Friday evening, offering "safety" advice to people arriving in the city.
On Monday, flights in and out of the airport had been halved as airline industry staff participated in a city-wide general strike.
Hong Kong chief executive Carrie Lam said in a press conference on Friday that the protesters "have no stake in society" and wanted to destroy Hong Kong's economy.
She warned an economic downturn was coming that would hit the city harder than that resulting from the 2003 SARS epidemic that halted tourism.
Cathay Pacific owns 18 per cent of Air China and operates many codeshare flights between Hong Kong and mainland cities. Air China has a 22.7 per cent stake in Cathay Pacific.
Kirsty Needham is China Correspondent for The Sydney Morning Herald and The Age.