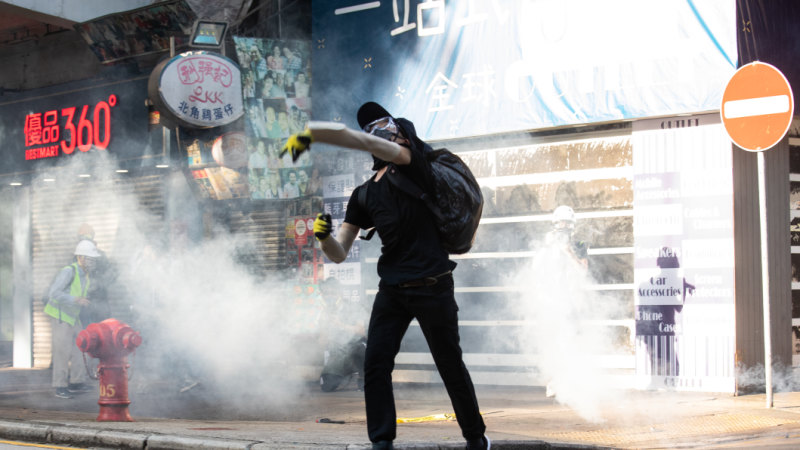 Demonstrators complain China's ruling Communist Party and Hong Kong leaders are eroding the liberties promised to the former British colony when it returned to China in 1997.
Also Saturday evening, protesters blocked an entrance to a tunnel that carries traffic under the harbour in the Hung Hom area.
Earlier, afternoon protest marches went ahead in two areas, Wong Tai Sin and Tai Po, despite a police refusal of permission for the gatherings.
"I miss the British colony," said a protester at Tai Po, Alexandra Wong, who carried two British flags and wore a T-shirt that said, "Establish a Democratic China."
"After 1997, young people don't see a future," she said.
Wong, 73, was among protesters carrying British, Taiwanese or US flags. Some chide them for playing into Beijing's claim that hostile foreign forces are behind the demonstrations.
Of those accusations, Wong said, "I don't care what the government says. They will say anything."
At the police station in Tsim Sha Tsui, people who appeared to be local residents surrounded the building after protesters left.
The residents called for the release of people who had been arrested during the protest and chanted, "Hong Kong police know the law and break the law!"
The crowd blocked the path of a police vehicle that appeared to contain a woman who just had been arrested. They shouted, "Release! Release! Release!"