The couple had been married for 22 years. "When I met her, she was an angel and she still is," Basco told KFOX-TV earlier this month
"We were gonna live together and die together and that was our plan."
He said her kindness could not be matched, and that one could see that she was "an awesome lady" simply by looking at how she acted. "We were going to live together and die together," he said.
Basco's offer went viral on Facebook after Perches Funeral Home shared his story. They added a rallying cry to "show him & his Wife some El Paso Love."
The funeral home's Facebook post has been shared more than 10,000 times and elicited more than 1,000 comments. One woman wrote that she had sent flowers from Los Angeles. Another man said he would attend the funeral and represent the hundreds of people who could not make it.
Tributes, as well as flowers and cards, have poured in from across the country.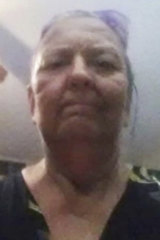 Reckard herself had two sons and a daugther, KTSM-TV reported. Her family members will travel to El Paso to attend the funeral, and will welcome anyone who wants to grieve and show support, said the station.
"We want to thank the people of El Paso because without them I don't know what we would have done," Reckard's daughter-in-law Hilda Nuzzi told KTSM-TV.
Reckard was born in Washington, according to her obituary. The public visitation is scheduled for Friday evening at the funeral home in a strip mall in north-east El Paso, which fits about 200 people.
Judging by the response on social media, some mourners who never knew Reckard may need an overflow room.
USA Today, New York Times