That early-morning crash on the Monash Freeway this morning is still causing lengthy delays.
Chris Miller from VicRoads told us the crash involved two trucks and a ute carrying a trailer.
Two lanes remain blocked while emergency crews hook the damaged vehicles up to tow trucks and clear debris from the road.
Lines of cars are stretched back to the South Gippsland Freeway interchange, about three exits back along the Monash.
Motorists are still being advised to use the Princes Highway instead.
French authorities are clamping down on illegal "magnet fishing" amid fears that enthusiasts, who use large magnets to hunt for treasure in rivers and canals, may pull up unexploded bombs.
Police cleared a large area in Nantes on Saturday after a man hauled a Second World War mortar bomb out of the River Erdre.
The government is particularly concerned about magnet fishing in the River Somme.
Got your thinking caps on? Here's the highlight of our morning at Express – the Target word 😉
For those who need a helping hand (me, always!) scroll down below the tweet for a clue.
We will print the names of the first few with the correct answer here before 9am.
Good luck!
Our morning homepage editor and resident clue-writer has this clue for you this morning: "I love a sunburnt country."
It's likely to be a painful commute for motorists on the Monash Freeway this morning, after a four-car pile-up about half an hour ago.
Two lanes remain blocked inbound near Jacksons Road.
Thankfully, police have told us there were no injuries. But there are plenty of emergency services on site and it might be a while before it is all cleaned up and lanes reopened.
VicRoads advises motorists to use the Princes Highway instead.
Here's a recap of our top story:
A 20-year-old Frankston man has been charged with numerous offences including unlicensed driving after a fatal crash in Cranbourne on Sunday.
Byron Hampton, 16 and Jordy Kirkwood, 18, died when the car they were riding in allegedly crashed into another car on the South Gippsland Highway just before 4pm.
Dakoda Nicholson, 17, from Frankston North, is still fighting for her life in hospital.
The Frankston man has been charged with one count of unlicensed driving, two counts of culpable driving and dangerous driving causing death, five counts of reckless conduct endangering life and committing indictable offences while on bail.
He has also been charged with over 40 offences relating to a number of vehicle thefts, theft from a motor vehicle, aggravated burglary, criminal damage and commit indictable offences while on bail and arson that occurred in Melbourne's south during July and August.
He will appear at Melbourne Magistrates Court today.
Anyone with information or dashcam footage is urged to contact Crime Stoppers on 1800 333 000 or at www.crimestoppersvic.com.au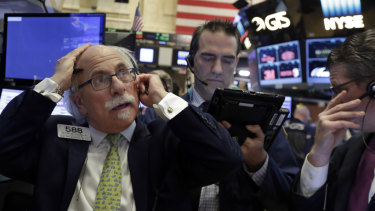 The global economy has begun to shudder.
On Wednesday, the US stock market tumbled after a reliable predictor of looming recessions flashed for the first time since the 2008 financial crisis. The Dow Jones industrial average fell more than 700 points, or nearly 3 per cent, in the afternoon and has lost close to 7 per cent in the past three weeks.
Two of the world's largest economies, Germany and the United Kingdom, appear to be contracting. Argentina's stock market fell nearly 50 per cent in recent days, and growth in China has slowed.
Whether the events presage an economic calamity or just an alarming spasm are unclear. But unlike during the Great Recession, global leaders are not working in unison to confront mounting problems and arrest the slowdown. Instead, they are increasingly at one another's throats.
A group of up to 10 males are on the run after stabbing two teenagers inside a Dandenong fast food store yesterday evening.
Police say the group of between seven and 10 males entered the fast food store on David St about 6.40pm and stabbed two males who were inside.
The group fled the store towards the Prince Highway.
Both victims, who are aged 18 and 16 from Hampton Park, are in hospital with non-life threatening injuries.
Anyone with information should contact Crime Stoppers on 1800 333 000 or at www.crimestoppersvic.com.au
A search will resume at first light for a Victorian swimmer missing off the coast of NSW.
Emergency services were called to Gillards Beach, near Tathra on the Sapphire Coast, about 5.30pm yesterday.
Witnesses told police a 42-year-old Victorian man went for a run and swim earlier, but had not been seen again, and his clothes and personal belongings remained on the beach.
A search was conducted while it was still light, but was suspended overnight. It will resume at first light today.
Delays are building on the Monash this morning after a crash involving at least one truck.
Two inbound lanes are closed near the Jackson Road entry ramp.
VicRoads is advising motorists to jump onto the Princes Highway instead.