The jeopardy comes in many forms, from over-reliant yet unpredictable technology – faulty swipe cards and computer upgrades are to this what Kramer's explorations of Jerry's fridge were to Seinfeld – to the clashes of ego between, say, the diligent boss of the NBA, Tony (Rob Sitch) and "government liaison guy" (er, whatever that is) Jim (Anthony Lehmann). Some, such as the terrifying public relations maven Rhonda (Kitty Flanagan) or the results-driven HR manager Beverley (Rebecca Massey), are the equivalent of solo stand-up acts in their own right.
Yet somewhere along the way, Utopia took another prisoner, its satiric observations of the workings of the NBA and the brown-nosing politicians who walk its corridors becoming a shorthand for much of what is wrong with the modern world.
This elevation from disposable entertainment to cultural "moment" is something only a handful of comedies attain; think Yes, Minister, The Thick of It or even a previous show from the creators of Utopia, the biting and prescient newsroom satire Frontline.
There, writers Jane Kennedy, Santo Cilauro, Rob Sitch and Tom Gleisner pricked the questionable ethics and surprisingly thin skins of a pack of bullying, foot-in-the-door reporters and newsmakers. Here, it's an organisation that seemingly devours enormous amounts of public money in order to rubber-stamp and oversee the type of grand infrastructure projects that appear in the glossy brochures of an election campaign but deliver zero benefit to the community.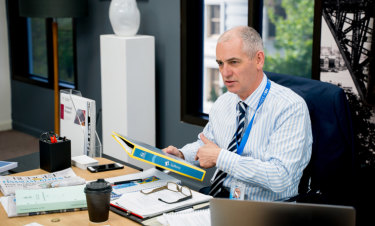 As satire of the modern world, Utopia does a brilliant job of reminding us of the extent to which our lives are ruled by the decisions of faceless, unelected bureaucrats, processes supposedly designed to simplify our lives, the chicanery of so-called "public private partnerships" and the ease with which corporate jargon and spin are used to cover up events that might be more plainly called scandals.
But there's a level of silliness in Utopia that stops it from becoming a diatribe that might only appeal to the political class. And while it may have some large and obvious targets in its sights, it never wavers from its faith in human comedy or the possibility of a stuff-up resulting in something at least half-good.
Utopia is on ABC, Wednesday, 9pm.