"The bottom end is now the busiest. This is probably the poor relation area," said long-time Lygon Street restaurateur Frank Dimattina, referring to Il Gambero's location further south towards the city.
The split is also stark in the types of establishments found on each side of the divide.
"We've got Brunetti's, we've got Readings, we've got the gelateria (Pidapipo)," said Macello Donati, from Donati's Fine Meats.
There's also hipster bar Heartattack and Vine, the redeveloped King and Godfree, as well as old favourites Jimmy Watson's, Tiamo and Cinema Nova.
"It's always been the best block," Mr Donati said, adding "I think as you go down it gets…" before stopping himself.
What you do get as you go down are the classic pizza, pasta and coffee joints that once attracted diners to Lygon Street in huge numbers.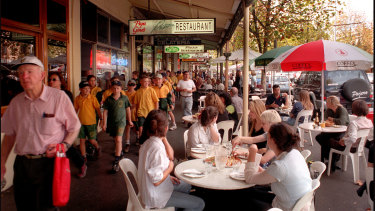 Rose Gibaldi, from Stuzzichino, remembered being unable to take a meal to an outside table in those days because the footpath was so full of people.
"That's how busy the street used to be," she said. "Now, at night especially, completely dead."
The opening hours at Stuzzichino have changed dramatically over the years. At its busiest, the cafe was open every night, sometimes until 3am. Now, it closes after dark.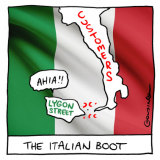 Ms Gibaldi and her brother Angelo listed a number of reasons for the street's problems, including parking, Uber Eats and a free coffee promotion currently running at 7-Eleven.
"How do you compete with that? They've got lines of people at the moment," she said.
Smoking laws prohibiting people from lighting up in food areas had also hurt foot traffic, she believed, as had a reduction in events like those that used to involve the Ferrari Formula One team.
But she also conceded Lygon Street didn't have the same pull it used to.
"Back in the day the only place you could get a good pasta or pizza was Lygon Street, now you can get one in Broadmeadows," said Ms Gibaldi.
"Why do you need to come here for?"
Only Chapel Street and Bridge Road had higher vacancy rates among Melbourne's retail precincts, according to the figures compiled by real estate agency Fitzroys.
Lygon Street used to be the centre of the universe. And now every suburb has got their own restaurant and cafe culture.

Alex Brosca, Papa Gino's
Loading
But unlike Lygon Street, both of those struggling strips had fewer vacancies than the year before.
Alex Brosca from Papa Gino's, a Lygon Street icon for more than 40 years, agreed that parking was still a big turn-off for many diners.
"Back in the day, Lygon Street used to be the centre of the universe. And now every suburb has got their own restaurant and cafe culture," he said.
Melburnians were a bit jaded about Lygon Street, Mr Dimattina believed, and high rents needed to drop to reflect its change in fortunes.
"It's never been as bad as it is," he said.
"The street's been marvellous. It's definitely going through a slower period. Can it bounce back? I think it's possible."
Tom Cowie is a journalist at The Age covering general news.