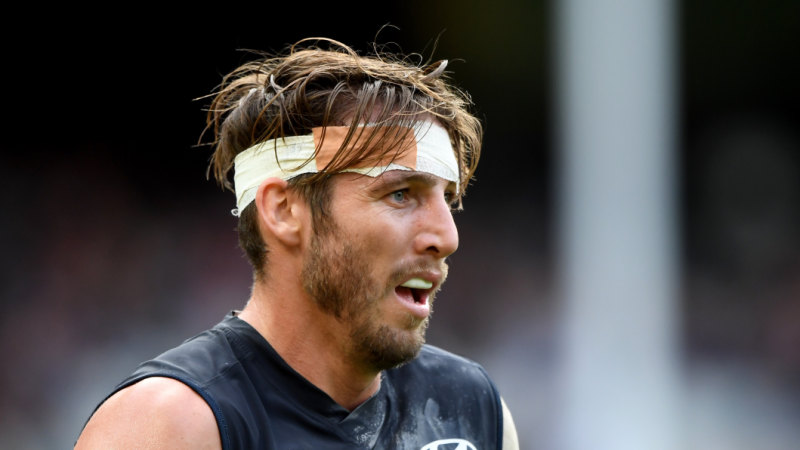 Loading
This season he played as well as at any time at Carlton, which was part of the reason Thomas had not only wanted to play on, but had strong reason to believe the Blues would want him to, as well.
The former Magpie, who won a premiership with Collingwood before going on to play 100 games in navy blue, has been squeezed by Carlton's salary cap and list pressure.
Carlton are active in the trade market for star GWS midfielder Stephen Coniglio, Richmond premiership player Brandon Ellis – who is a restricted free agent – and Swans small forward Tom Papley. They have previously also had interest in Jack Martin, though that might have cooled in recent times.
Should they be successful with the main three targets, they would be pressed on their salary cap as well as list positions.
The Blues also have veteran Kade Simpson, who is expected to be re-signed on another one-year deal, and co-captain Sam Docherty coming back in.
The Blues also like Tom Williamson, the skillful left-footer who has played only two games this year as he struggles with a back injury.
The pressure for positions thus has squeezed Thomas.
Thomas moved to Carlton from Collingwood at the end of 2013 on a four-year deal worth almost $700,000 a year.
The ankle problems he had endured in his last year at Collingwood continued to restrict him at Carlton. Where he had come into the game as a fast, high-leaping player with elite endurance, the ankle injury robbed him of his leap and some of his speed. But his endurance and cleverness remained.
A charismatic figure with a daring and dash in his game, he challenged preconceptions about him and his move to Carlton when, in an admirable show of loyalty, he tore up the final year of his contract because of issues about trigger clauses activating that final year of his deal. He insisted he wanted to be picked and played on merit, not on trigger clauses.
Michael Gleeson is an award-winning senior sports writer specialising in AFL and athletics.