Murphy eventually responded by handing Kyrgios a point violation after Khachanov won the second-set tiebreaker to level the match, when the Canberran overstepped the mark by screaming out an obscenity.
Kyrgios then followed this up by asking for a toilet break.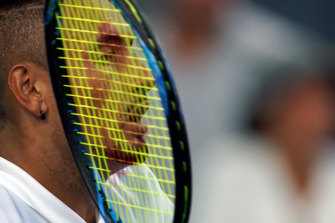 He took two racquets with him and smashed them in the players' tunnel before returning to the court.
After a double-fault handed Khachanov the match and the players shook hands, Kyrgios told Murphy "you're a f—ing tool bro" and appeared to spit in the direction of the umpire before he shunned the traditional handshake.
Loading
Kyrgios was later fined $US113,000 ($A167,000) by the ATP.
The fines included five charges of unsportsmanlike conduct totalling $US 85,000, $US 20,000 for verbal abuse, $US5000 for audible obscenity and $US3000 for leaving the court.
"The ATP is looking further into what happened during and immediately after the match to see if additional action is warranted under the Player Major Offense section of the code," the game's governing body said in a statement on Thursday.
"That could result in an additional fine and/or suspension."
Kyrgios had clashed with Murphy two weeks ago at the Washington Open and was also fined by the ATP after being embroiled in an expletive-ridden rant with Murphy at the Queen's Club Wimbledon warm-up tournament in June.
Khachanov's win means he will take on Frenchman Lucas Pouille in round three, who beat Canadian Denis Shapovalov 6-4, 6-4.
Kyrgios' Australian compatriot Alex de Minaur also bowed out of the Ohio tournament, losing 7-5, 6-4 to Japan's Yoshihito Nishioka.
PA