Smith resumed 40 minutes later and faced nine more balls for his 92 in an Australian first innings of 250, just eight in arrears of England's initial total.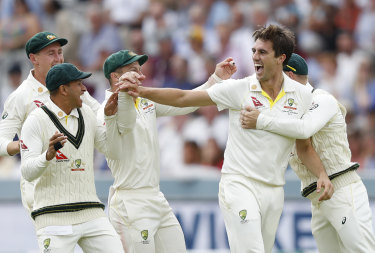 After passing concussion assessments he was being further monitored and applying ice to his arm, but it was expected he would return to bat on Sunday as Australia attempt to secure a 2-0 lead in the series.
"Who would have thought, we're playing at Lord's, we've lost a couple of days – or nearly a couple of days – to rain and it's absolutely game on tomorrow," Australia coach Justin Langer said.
"We probably went searching a little bit after a great start today, we went searching a little bit on this wicket. It's tough to bat on, which I don't mind, and it's going to be a great day's Test cricket tomorrow.
"I guess the only issue is there's only one day left in it so there's lots of scenarios that can play out here but it's game on I reckon."
While Smith was sent to hospital for a scan, Cummins was on a hat-trick after removing Jason Roy and Joe Root in consecutive balls as England slumped to 2-9 and while an excellent Siddle then took care of Rory Burns caught behind for 29 and Joe Denly, caught and bowled, for 26, there were glaring missed opportunities for Australia.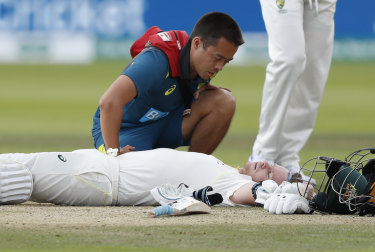 David Warner dropped two catches – putting Denly down on eight and stretching out one arm unsuccessfully when Ben Stokes was on six. Twice, too, Australia would have had wickets had they reviewed lbw decisions that weren't given by the umpire, firstly when Burns was on 24 and when Stokes was also on six.
"We missed a few in the first Test as well," Langer said of the non-reviews. "We talked about how we can get better at it and we missed a couple today so we're aware of it, obviously the whole world's aware of it or anyone who watched the game of cricket's aware of it now because it's right there.
"It's frustrating, there's no doubt about that, it can change a game, it can change a session, it can change a Test match, it could change a series. We're aware of it and we need to get better of it."
Stokes (16 not out) and Jos Buttler (10 not out) steadied the ship for England before stumps.
Loading
Earlier, Archer removed Tim Paine for 23 after lunch, caught at short leg by Buttler. After Smith left the ground Siddle made nine before he edged Chris Woakes to wicketkeeper Jonny Bairstow, bringing the former captain back to the crease.
He immediately went on the attack, hitting Woakes for successive boundaries before misjudging a straight delivery. Smith reviewed the decision but replays showed the ball would have hit the stumps and he trudged off to another warm reception.
"It was a bit strange because he hasn't left any on the stumps all series," Woakes said.
"He had obviously just come back out, he'd hoiked me over mid-wicket for one-bounce four, whether he was at that point I'll try to get to three figures as quickly as possible I'm not too sure."
Woakes added with a smile: "I thought it was just a good piece of bowling."
England quickly wrapped up the tail, spinner Jack Leach dismissing Lyon and Broad snaring Cummins for 20.
Woakes said England had tried to test Smith's "technique in every way possible" so far in this series.
"It took a serious spell of bowling from Jofra to kind of get Steve out of his bubble I suppose, because so far in this series he's been incredible," he said.
Loading
"It was serious pace, I'm sure it was incredible to watch, incredible to be part of on the field and thankfully having seen Steve on the balcony, he's obviously OK which is good news.
"For Steve to come back out, having been hit the way he was, that takes some courage and character.
"You don't want to see somebody get hurt and leave the field, you want to get them out and thankfully we managed to do that in the end."
Chris Barrett is Sports Editor of The Sydney Morning Herald.