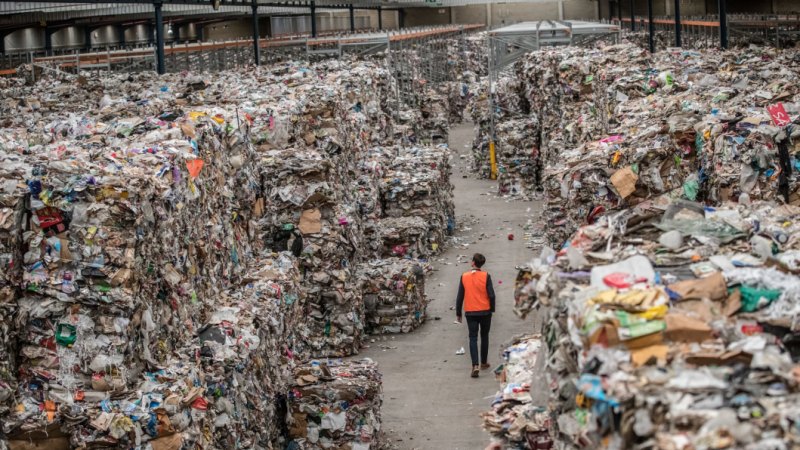 Loading
With food and garden organics and a broad range of packaging and paper diverted for recycling, plus a focus on avoiding waste, the residual bin should contain very little garbage and can be reduced in size. The four bins – organics, glass, other recycling, and residual waste – can in most cases be collected fortnightly. The lower frequency of collection and increased value of recyclables will help to offset the cost of an additional bin. For skip collection from multi-unit residential developments, we can also separate paper and cardboard for delivery straight to the paper recycling mill. Once again, this is standard practice in most of Europe.
When recyclables are delivered for sorting, we need certainty about the management and destination of this material. All sorting sites need to be structured to sort materials to local recycling specifications (e.g. newsprint separate from cardboard, PET plastic separate from polyethylene). They need to be regularly audited to ensure they are achieving set diversion targets and stockpile management. The destination of recyclables should be relayed back to councils and residents to motivate us to drive down waste.
As much as possible, we should recycle into new products at a local level. This will mean major expansion of plastics recycling capacity. Some export of material will probably be required, but this needs to be monitored to prevent us sending hazardous material to developing countries.
The recycling loop will not have been completed until government and industry purchase the recycled materials in the form of new products. Brand owners need to increase the recycled content of their packaging to the technical limits. Government agencies such as VicRoads and Parks Victoria need to receive ministerial direction to prioritise the use of plastics with recycled content and other materials in posts, boardwalks, seats and road-making materials.
Funds collected from landfill levies need to help fund this transition to a robust, world-leading approach, including support for establishing recycling plants and new bin infrastructure at council level.
If we join the rest of Australia in adopting a container deposit scheme, it must be done properly, covering all beverages and, preferably, all rigid packaging. The deposits need to be redeemed for material flowing through our kerbside system to increase its economic value, and not be confined to a limited number of reverse vending machines.
Our households also generate durable products reaching end of life such as clothing, appliances, furniture, mattresses, bikes, toys and more. For these, we need to develop a network of neighbourhood reuse and recycling drop points.
Once we have these points in place, we can decide whether the much-reduced residue of waste should go to landfill or to another form of treatment. Everything outlined here is already working well somewhere else, so let's copy the best and recycle right.
Peter Allan heads SRU, a recycling and waste consultancy that provides independent strategic advice to government and industry.