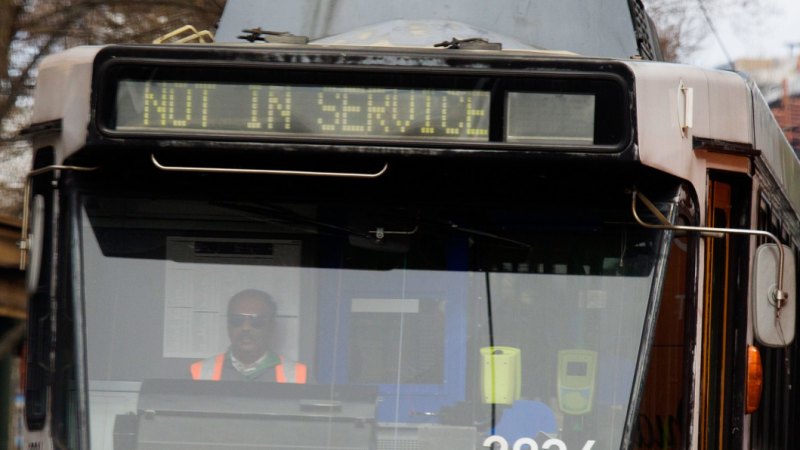 Future strikes remain on the table, said Rail, Tram and Bus Union state secretary Luba Grigorovitch. "I've made that clear."
She said she was not optimistic the dispute would be resolved soon.
"I would hope both Yarra Trams and the government come forward with an offer that is one I would endorse and take back to the membership, but to date that has not surfaced so I'm not holding my breath."
Union spokesman Amedeo D'Aprano said: "We won't be budging on job security, job safety."
Yarra Trams CEO Nicolas Gindt slammed the strike, and any potential future strikes, as unnecessary.
"I believe that today's stoppage wasn't necessary to find an agreement with the RTBU and I also believe that it's not necessary to have any other industrial action in the next few weeks."
On Monday the two parties will return to the Fair Work Commission to start a "new phase" of negotiations, he said.
Both parties said the other needed to come to the table.
"The ball is in their [Yarra Trams'] court, they need to show some sort of genuine desire to find common ground," Mr D'Aprano said.
Mr Gindt said, "I really invite the RTBU to come back to the negotiation table to actually pursue the negotiation that we started four months ago."
Loading
Earlier, a Yarra Trams spokesperson said back office staff had been posted at key stops to provide information to passengers who may not be aware of the strike.
Richard Cheong, 46, said he was planning to catch a tram to meet a customer but would now have to walk, taking him an extra 15 minutes.
"It's a bit frustrating but I guess it's quite common in Melbourne."
Patrick Yang, 63, had not known the strike was happening and was waiting with a loaded shopping trolley.
"It's very hard if there are no trams, you'll have to walk a long distance. It's inconvenient."
He said the government should have intervened to stop the strike.
Limited replacement buses ran from some tram stops to transfer passengers to trains or buses approximately every 30 minutes.
Buses prioritised hospitals, shopping centres and universities, and ran along St Kilda Road every 15 minutes.
The union is sticking to its demand for a 6 per cent annual pay rise over three years, while Yarra Trams is offering a 3 per cent annual pay rise over four years.
Hundreds of striking tram drivers, inspectors and other staff gathered at Trades Hall for a rally and a barbecue, before boarding buses that would ferry them back to the tram depots.
They chanted "what do we want? A fair deal!" and "we will win!"
The industrial action follows more than five months of negotiations between the city's tram operator and the Rail, Tram and Bus Union.
"Our members have been forced to take a stand because management plans to flood depots with part-time workers, introduce shorter shifts and change rosters, which will undermine stability and the culture of the tramways," Ms Grigorovitch said.
"It's unfair and unreasonable that careers and lives are turned upside down by a reduction of hard-won conditions."
Minister for Roads Jaala Pulford urged both parties to resolve the dispute as quickly as possible.
"This is always very inconvenient for the tens of thousands of people who are on our trams every day."
The strike rounds out a public transport "perfect storm", with the City Loop about to shut down and a section of Flinders Street to close for three years from Monday.
Come Friday night, the City Loop will be emptied and buses will replace trains on 11 separate lines for a weekend of works on the rail network.
Buses will replace trains on all or parts of the Werribee, Williamstown, Sunbury, Craigieburn, Upfield and Geelong lines from 9pm Friday until the early hours of Monday.
With Robyn Grace
Yan is a reporter for The Age.
Tom Cowie is a journalist at The Age covering general news.
Simone is a breaking news reporter for The Age. Most recently she covered breaking news for The Australian in Melbourne.