The goods were allegedly stolen from the storage cages of residents in the apartment complex he managed on Bowman Street, Pyrmont, and others in the Sydney CBD, between February and June this year.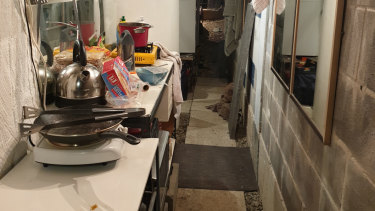 The basement area, beneath the Knox on Bowman apartment complex, underwent an extensive forensic examination before all the property was removed.
Mr Hati, 42, was arrested at a pub in Sutherland last Sunday, following a police pursuit that began hours earlier in South Penrith, when he allegedly attempted to evade police while driving a Holden ute.
Following his arrest, police searched his vehicle and allegedly seized the drug ice, cannabis, drug paraphernalia, and stolen number plates.
He has been charged with a number of offences, including property theft, conspiracy to cultivate cannabis, speeding and not stopping during a police pursuit and possessing a prohibited drug.
Police will allege in court that Mr Hati was living in the cave, using it to store stolen property, and was in the process of establishing a hydroponic set-up to cultivate cannabis.
He was refused bail and will appear at Sutherland Local Court on Monday September 30.
Detectives are now cataloguing the stolen goods in order to return them to their owners.
Mr Hati and his alleged "cave" were targeted as a result of an ongoing police investigation into the supply of prohibited drugs on Sydney's north shore.
The investigation was launched in June and led to a search warrant being conducted at a home on Centennial Avenue, Lane Cove late last month.
During the search, police arrested three men, aged 24, 26 and 33, and allegedly seized a small amount of drugs and a large amount of property including a pair of throwing knives, a crossbow and an extendable baton.
It is understood investigators believe Mr Hati and the three men were working together and are investigating whether the stolen goods found in Pyrmont and Lane Cove allegedly formed part of the same haul.
Last month the 24-year-old man, from Lane Cove, was charged with a range of offences, including ongoing supply of prohibited drugs and knowingly dealing with proceeds of crime.
Loading
He remains in custody and before the courts.
The 26-year-old St Clair man and the 33-year-old Toronto man were both charged with possessing a prohibited drug. Both were released on conditional bail and will appear before a local court later this year.
According to social media accounts, Mr Hati is a building manager at Valentino Apartments and a former building manager at Meriton Suites World Tower in Sydney.
Attempts to contact Valentino Apartments were unsuccessful.
Lucy Cormack is a crime reporter with The Sydney Morning Herald.