Did you get this morning's Target word? Russell Shiells, Jo Marshall and Keith Owens were quick off the mark, claiming this morning's honours. Your round of applause is in the mail.
We'll print the solution tomorrow.
In our other, more lateral-thinking Target comp, the Demons fans have infiltrated:
A trainee pilot has successfully made an emergency landing after his instructor fell ill mid-flight.
In a recording released last night, the air traffic controller is heard talking the trainee pilot through the process to land the plane over 50 minutes. The instructor was taken to hospital in a stable condition.
Nearly 400 young people have been arrested for robberies, public disorder and vehicle crimes across suburban Melbourne.
It comes amid a police crackdown on youth crime in city's south-east, with 396 arrests made and 126 warrants issued since April 1.
In one case, two teenage girls were arrested over a failed mugging of a woman near Dandenong station, AAP reports.
Nearly 280 traffic fines and 50 crime infringements have also been issued as part of the crackdown, dubbed Operation Tidal.
Here's Mr Dutton explaining on Nine why he chose to release the information today, instead of last month when the boat was intercepted: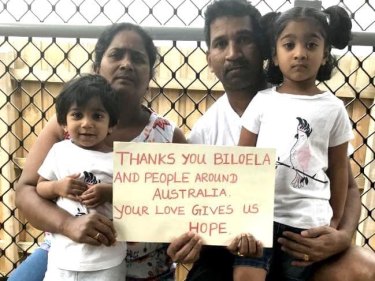 Home Affairs Minister Peter Dutton has been accused of taking pleasure in others' suffering and showing a lack of humanity in attempting to deport a Tamil asylum seeker family.
Hundreds of people rallied across Australia yesterday to protest the possible deportation of the family.
The government sent Tamil husband and wife Nadesalingam and Priya, and their daughters Kopika, 4, and Tharunicaa, 2, to Christmas Island from Darwin on Saturday after their legal team won a court injunction preventing their deportation until this Wednesday.
Carina Ford, their Melbourne-based solicitor, is due back in the Federal Circuit Court today.
Mr Dutton, meanwhile, has told The Courier-Mail a vessel stopped by the Australian Border Force last month confirms the "real" threat of asylum seeker boats from Sri Lanka. The boat was stopped on August 7. The home affairs minister released the information yesterday.
The man who raped and murdered aspiring Melbourne comedian Eurydice Dixon will be sentenced today.
Jaymes Todd stalked Ms Dixon, 22, for more than an hour before attacking her as she walked through Princes Park following a comedy gig on June 12 last year.
After the murder, the then-19-year-old bought a pie and coffee, went back to the Carlton North crime scene and googled rape, pornography and stories about his victim.
Todd could one day walk free from jail as prosecutors have not asked for a life sentence, citing his age, lack of prior convictions and early guilty plea. He has autism and has been diagnosed with sexual sadism disorder since being in custody.
We did! Spring began yesterday with an undecided mix of sunny and gloomy but tomorrow we're in for a top of 20 degrees. So not only are we eating cake for breakfast in Express HQ, we're thinking of getting out our lily white arms. Life, you're looking up.