Late on Monday night, homicide squad detectives charged the 32-year-old Langwarrin man with murder.
The 34-year-old woman, the toddler's mother, has been released without charge and is not believed to have been involved in the incident.
It comes as the grandmother of the child remembered him as a bubbly little boy who loved to play with trucks.
The woman, who did not want to be named while the family came to terms with the tragedy, said the little boy's name was Jaidyn.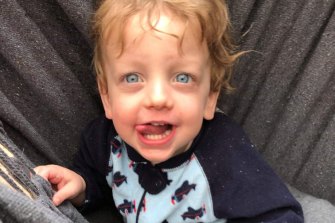 "He was a happy little thing… when I had him he was always full of cuddles, a bubbly little boy … It's so sad," the grandmother said.
"He liked trucks mostly, I had a little old plastic truck at my place and he would constantly play with that.
"I got him some toy cars for his birthday because he loved things that whizzed past."
She said she last saw him and his mother – her daughter – three weeks ago.
The grandmother found out about the child's death after one of her daughters recognised the Langwarrin home on the news on Monday night and called her.
One neighbour said she saw a woman arrive at the home on Monday afternoon telling police she was the children's [paternal] grandmother.
"She was distraught," she said. "She didn't know what had happened. She was asking to see the kids."
They said the grandmother was extremely distressed, telling police her son, the children's father, had died in a motorcycle accident some time ago.
"She was saying 'I don't care about her [the woman], just let me see the kids'," the neighbour said.
Father of four Tony Weepers who lives across the road from the house said paramedics and police arrived at the home.
"Hearing what had happened … it has shocked everyone," he said.
"It's a sad story I'm sure it's disheartening scene for people and probably be something that will be implanted in their mind because it's devastating."
Anyone with information is urged to contact Crime Stoppers on 1800 333 000 or submit a confidential report at www.crimestoppersvic.com.au
Simone is a breaking news reporter for The Age. Most recently she covered breaking news for The Australian in Melbourne.