He said the recent attacks on peaceful protesters by the Hong Kong police and proxy forces were "shocking and completely unacceptable".
About 18,839 Hong Kong residents were in Australia across all visa classes as of June 30 this year, according to Department of Immigration figures.
"It is now absolutely clear that any Hong Kong resident currently in Australia faces a genuine risk of harm should they return home," Senator Di Natale said.
"We have a legal and a moral obligation to offer them safe haven, and that is what Scott Morrison must order his government to do."
The Victorian senator said former prime minister Bob Hawke's decision to grant protection to Chinese citizens in the wake of 1989's Tiananmen Square massacre was a "shining example of Australian leadership in the world" which had made Australia a richer multicultural nation.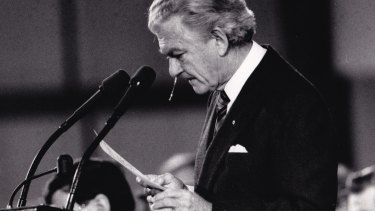 Mr Hawke took action just 12 days after the Chinese People's Liberation Army opened fire on civilian protesters thirty years ago, extending all temporary entry permits for Chinese nationals legally in Australia for a year, with work rights and financial assistance.
More than 42,000 students were granted permanent visas by his government in the aftermath.
"We have been here before; we have a roadmap," Senator Di Natale said.
"Scott Morrison now has an opportunity to demonstrate to the world some kindness and generosity. For the sake of everyone involved in these tragic circumstances, I hope he takes it."
Mr Morrison has backed Donald Trump's calls for a solution to the crisis, urging Chinese authorities to respect the right of protesters to have their say peacefully.
Both New Zealand and Thailand have drawn up plans to evacuate their citizens from Hong Kong in case the security situation there deteriorates.
Mr Morrison spoke with world leaders, including Canadian prime minister Justin Trudeau and British premier Boris Johnson at the G7 in Biarritz, France last week about ongoing violence.
"We urge protesters to be conducting themselves in a peaceful way," Mr Morrison said.
"And we encourage those who are raising issues to be able to be heard by the Chief Executive of Hong Kong to seek to resolve those issues internally. But ultimately that's in the hands of those who are coordinating the protests and those who are responding."
Rob Harris is the National Affairs Editor for The Sydney Morning Herald and The Age, based at Parliament House in Canberra