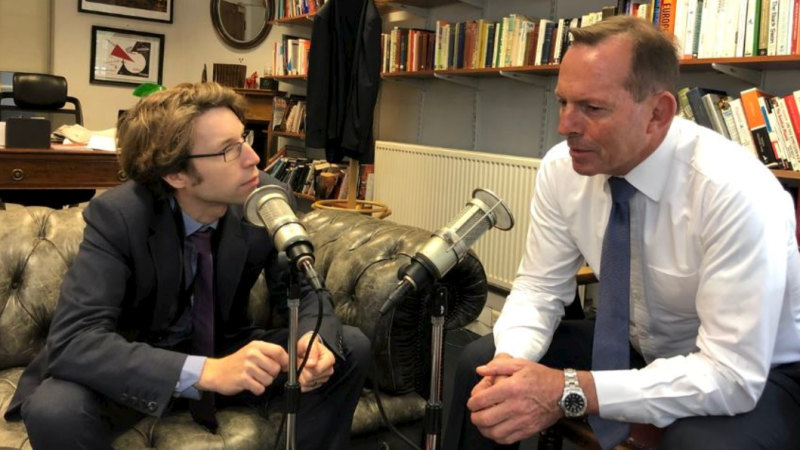 Speaking to the British political journalist and commentator James Forsyth for The Spectator's Coffee House Shots podcast, Abbott called on Britain to adopt Australia and the United States' stance in banning the Chinese telco from its 5G network roll-out.
Loading
"And I think it is important for the Five Eyes network to have a common approach to this," Abbott said.
He said the advice from Australian security officials to the Coalition and Labor governments had been that there was no guarantee that Huawei equipment would not be used in some way to compromise the networks.
Abbott joins a long line of current and former Australian politicians, including his leadership foe Malcolm Turnbull, in warning the British against allowing the Chinese into their 5G network.
Labor excluded Huawei from building the backbone of the National Broadband Network, a decision upheld by the Coalition when Abbott was prime minister.
Loading
The Coalition, under Malcolm Turnbull went on to exclude Huawei from the 5G rollout.
Abbott said it was "pretty obvious" that China had been engaging in stealing intellectual property and trade exploitation for many years and US President Donald Trump was pushing back on it.
"I think what is happening, at least as far as President Trump is concerned, is a bit of an attempt to take China out of the supply chain," he said.
"Now I can understand that and I think all of us are going to have be a lot more astute in managing this particular relationship."
Loading
The British government has said it expects to make its final decision on Huawei before the end of the year. The newly installed Culture Secretary Nicky Morgan said the government wanted to make the "right decision."
"We've got to make sure that this is going to be a decision for the long term, making sure we keep all our networks secure," Ms Morgan told BBC Radio 4's Today program.
"Huawei are not involved in the provision of government networks at the moment and that's absolutely going to stay the same way, but we will look at all circumstances."
The decision has fallen victim to Westminster's paralysis on Brexit and the Tory party's civil war.
Theresa May's National Security Council (NSC) split on the issue and her preliminary approval of Huawei's involvement was sensationally leaked, leading to the sacking of the Defence Secretary Gavin Williamson.
The May government deferred the decision for the new NSC, which is stacked with a majority of hawks and pro-Brexit figures, meaning they are more than likely to be sympathetic to Australia and the United States' position.
Latika Bourke is a journalist for The Sydney Morning Herald and The Age, based in London.