"The recent economic data proves what has been clear to so many of us for so long: The Liberals' tired, old trickle-down approach to the economy is a failure and they are out of ideas," he said.
"These figures are the weakest we've seen for decades and should be a wake up call for both the Liberals and Labor that business as usual just isn't going to cut it."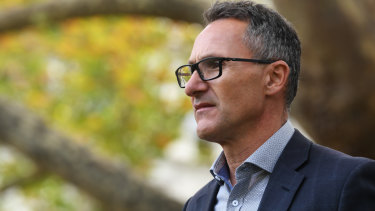 Under the proposal, the pipeline of "green infrastructure" would be accelerated and brought forward.  It would include the rollout of public electric vehicle charging stations and the Melbourne Metro 2 that would connect the Mernda and Werribee rail lines.
A $2 billion-a-year nature fund would be established with 10,000 people deployed for habitat restoration and conservation projects across the company.
Cuts to the public service would be reversed while the cap on bureaucrat wage rises would be dropped with the Greens committing to 4 per cent pay lift.
Newstart and the youth allowance would be increased by $75 a week while the Greens want to reverse the cut in weekend penalty rates. It would press for the minimum wage, currently $740.80 a week, to be lifted to 60 per cent of the median wage.
The government has ruled out increasing Newstart and believes a combination of lower interest rates and the recent cut in income taxes will protect the economy.
But the depth of the problem in the housing sector has been highlighted with the Australian Bureau of Statistics on Friday revealing huge falls in building approvals across parts of Melbourne and Sydney.
Loading
Approvals in the Melbourne CBD collapsed 92 per cent between 2017-18 and 2018-19, falling to their lowest level since the global financial crisis.
Other large falls were recorded in the Brunswick-Coburg area (60 per cent), North Melbourne (60 per cent) and Southbank (57 per cent).
While approvals across Melbourne dropped they actually increased slightly through the rest of the state.
It was a similar story in Sydney with approvals across the inner city down by 69 per cent.
They also dropped sharply in Bankstown (by 48 per cent), Kogarah-Rockdale (67 per cent) and Hornsby (56 per cent).
Shane is a senior economics correspondent for The Age and The Sydney Morning Herald.