Loading
The Andrews government introduced the legislation in early August compelling priests to break the seal of confession to report disclosures of child abuse, but the Coalition stopped short of supporting it at the time.
However, Opposition Leader Michael O'Brien later revealed he would back the bill.
The changes will bring religious leaders into line with police, teachers, doctors, nurses, school counsellors and youth justice workers who are required to report child abuse to authorities.
Religious leaders face three years in jail if they refuse to comply with the laws.
The Catholic Church has insisted priests would be obliged to defy the laws, with Melbourne Archbishop Peter Comensoli previously stating he was prepared to go to jail rather than break the confessional seal.
"For Catholics, confession is a religious encounter of a deeply personal nature. It deserves confidentiality," he said in August.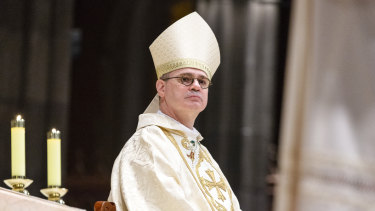 The Age revealed in August that Archbishop Comensoli began discussions with authorities a year ago about child safety and the principles of confession, despite his claim that the church was not properly consulted on new laws.
The archbishop, who recently marked his first year in the job, pushed back against the legislation in an opinion piece in the The Age, in which he says the bill is "unworkable" and shows a lack of understanding about the act of confession, particularly the anonymity of penitents.
Loading
The introduction of the legislation follows a recommendation in the 2017 final report of the Royal Commission into Institutional Responses to Child Sex Abuse that clergy and confession no longer be exempt from mandatory reporting.
The Northern Territory and South Australia have introduced mandatory reporting laws to which clergy are subject, and Western Australia and Tasmania have committed to doing so.
Mr Andrews, a practising Catholic, announced the policy in November, during the 2018 state election campaign.
With AAP, Chris Vedelago, Debbie Cuthbertson
Simone is a breaking news reporter for The Age. Most recently she covered breaking news for The Australian in Melbourne.