After the southerly, Sydney is expected to be hit by intense rain overnight, with 45mm of rainfall predicted for Tuesday.
"The rain is tracking behind of the cold front," she said. "We probably won't see showers until the evening, it will be about eight or nine o'clock before we see anything."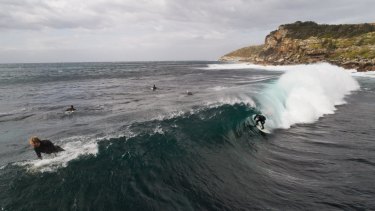 "Tomorrow [Tuesday] we will see steady rain for prolonged periods which is likely to cause quite a few issues on the road," she said. "Then as we move into the week, the showers will become more restricted to the coast and more intermittent."
A maximum of 17 degrees is expected in the city on Tuesday, with a minimum of 10. Western Sydney will feel highs of 15 degrees and lows of six.
Loading
Surf conditions are also expected to be "large and powerful" over Tuesday evening.
By Wednesday, the system will have tracked out into the Tasman sea with moisture levels across Sydney expected to alleviate, Ms Golding said.
"The winds take a bit to swing around completely to the north, and it doesn't really swing back all the way so it takes a few days," Ms Golding said. "It's not really until probably Thursday we start to see a northerly trajectory."
There will be a moment of brief relief towards the end of the week before another cold front is expected to track in from the west of the state, bringing more rain to Sydney over the weekend.