The US President and his allies accuse the older Biden of using his influence to remove a Ukrainian prosecutor investigating the gas company.
In the July phone call with his Ukrainian counterpart, Trump said: "There's a lot of talk about Biden's son, that Biden stopped the prosecution and a lot of people want to find out about that, so whatever you can do with the attorney general would be great.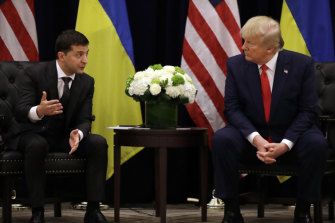 Loading
"Biden went around bragging that he stopped the prosecution so if you can look into it … It sounds horrible to me."
He urged Ukrainian President Volodymyr Zelensky to work with his personal lawyer Rudy Giuiliani and Attorney-General William Barr to investigate the Bidens.
Zelensky replied that a new chief prosecutor "will look into the situation, specifically to the company that you mentioned in this issue".
At a press conference in New York, in which he appeared unusually deflated, Trump appeared stunned that the release of the summary had not silenced criticism of his behaviour.
"Impeachment for that?" he said. "When you have a wonderful phone call?
"It was beautiful, it was just a perfect conversation."
Trump said his political opponents were trying to distract and embarass him while world leaders were in the US for United Nations meetings.
Speaking beside Trump at UN headquarters earlier, Zelensky said he did not want to become involved in the "democratic, open elections of USA".
But he described his conversation with Trump as "normal", adding: "Nobody pushed me."
House Speaker Nancy Pelosi, who announced a formal impeachment inquiry against Trump the previous day, said: "The President has tried to make lawlessness a virtue in America and now is exporting it abroad.
"Clearly, the Congress must act."
Adam Schiff, the chair of the House Intelligence Committee, said: "What those notes reflect is a mafia-like shakedown of a foreign leader."
The Democratic chairmen of four congressional committees investigating Trump said in a joint statement that the phone call demonstrated an "unambiguous, damning, and shocking abuse" of presidential power.
Loading
"The record of the call released by the White House confirms our worst fears: that the President abused his office by directly and repeatedly asking a foreign country to investigate his political rival and open investigations meant to help the President politically," House Judiciary chair Jerry Nadler and his colleagues said.
Some 211 Democrats now support impeachment or an impeachment inquiry, according to Politico. That is just seven votes short of the number required to make Trump just the third president in US history to be impeached.
By contrast, Republicans said the summary showed that Trump did not explicitly threaten to punish Ukraine if it didn't comply with his request.
"The transcript debunks the Democrats' false claims against President Trump and demonstrates that their call to impeach him is a total farce," North Carolina Senator Thom Tillis said. "This is yet another pathetic attempt by Democrats to destroy President Trump."
South Carolina Senator Lindsey Graham, a key backer of the President, tweeted: "Wow. Impeachment over this? What a nothing (non-quid pro quo) burger. Democrats have lost their minds when it comes to President."
A rare exception was Utah Senator Mitt Romney, who described the contents of the summary as "deeply troubling".
Democrats are hopeful that a whistleblower who filed a complaint about Trump's phone call will testify before Congress this week.
Matthew Knott a reporter for The Sydney Morning Herald and The Age based in the United States.