Hodgson defended the fact he was allowed to stay on the field, claiming the main issue was with his jaw rather than any concussion issue.
"You can't lie about those types of things," Hodgson said. "For one, it's too dangerous to lie about it. And two, you can't get away with it in this day and age anyway. The doctors look into it and you can't get away with it anyway. I was fine head wise, it was more my jaw.
You can't lie about those types of things.

Josh Hodgson
"I didn't get fuzzy or anything like that. I've had a head knock before and I know the feeling. Luckily it wasn't anything like that. It was just my jaw and I just needed to move it around and it was all good. Thankfully, there's no damage."
The NRL is set to examine the incident.
South Sydney coach Wayne Bennett shied away from entering into the debate after his side crashed out one game short of the grand final as the Raiders grimly tackled their way to a 16-10 win at GIO Stadium on Friday night.
"I saw it," Bennett said. "I'm not going to buy into the head knock opinions because I know what the rules are, the South Sydney doctors know what the rules are and they live by those. I'm happy for them to do that. What other clubs do with their players is up to them and I'm not going to challenge that type of stuff."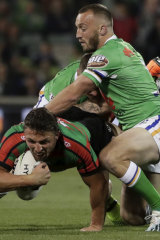 South Sydney finished the last match of the regular season against the Roosters with only 12 players on the park after being forced to withdraw a spate of players inside the final 15 minutes for head injury assessments.
And they had three players leave the field to have concussion checks in last weekend's finals win over Manly.
The Raiders defied Charnze Nicoll-Klokstad's sin binning for the last 10 minutes of the match as Josh Papalii's monstrous performance helped them charge into their first grade final in 25 years.
"That is what keeps you going, the big occasion," Hodgson said. "They give you energy. When it's backs to the wall and you're struggling to keep going, the big occasions give you energy. I thought 1-17 had a real dig and that's what we needed."
Adam Pengilly is a Sports reporter for The Sydney Morning Herald.