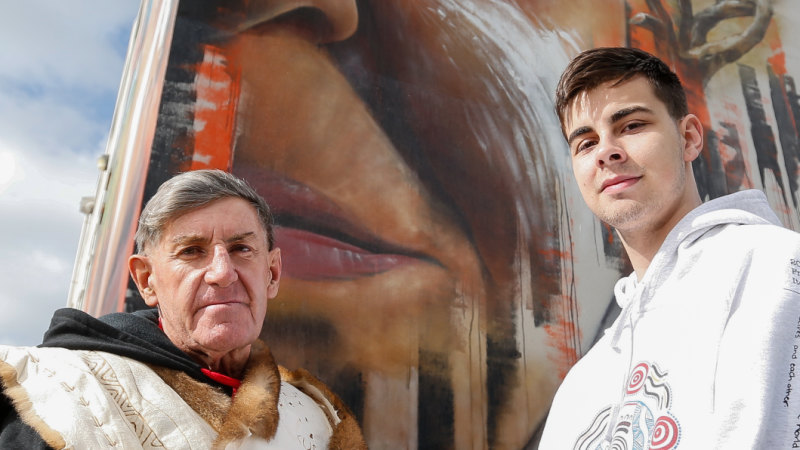 "I used to try to teach it and our people wouldn't grab onto it because they were scared," he says.
He understands the source of their fear.
"I was brought up as a whitefella – my parents said the only way to get ahead was as a whitefella," he says.
Today, there is almost no-one alive who can speak Peek Wooroong, one of about 140 endangered Aboriginal languages in Australia.
But Mr Eccles has hope that it can be revived in schools.
The children he teaches, black and white, have none of the learned shame of his generation and are embracing Peek Wooroong as a way to connect with Aboriginal culture.
Mr Eccles has recently begun to teach key words such as greetings and animals at kindergartens, while also working to rebuild the language from remnants passed on to him by his late uncle.
He is one of just 13 students at South-West TAFE in Warrnambool studying for a Certificate III in learning an endangered Aboriginal language.
Led by Koorie linguist Kylie Kennedy-Climton, the course will help boost the number of instructors who can teach Aboriginal language programs in the community, in kindergartens and in schools.
Students come from all over the state, each seeking to learn a different endangered Aboriginal language so that they can go on to teach it to others.
Students can learn languages including Gunai/Kurnai, Taungurung, Woi Wurrung, Yorta Yorta, Wergaia, Ladji Ladji, Gunditjmara, Peek Wooroong, Wergaia and Dja Dja Wurrung.
The course is being offered for the first time in Victoria this year and will be added to the list of government-funded TAFE courses in 2020, meaning students' fees will be subsidised.
The funding means the inaugural cohort of students, including Mr Eccles, will be supported to progress to a Certificate IV in teaching an endangered Aboriginal language from next year with a full scholarship.
Gayle Tierney, Victoria's Minister for Training and Skills, said the courses provided crucial support for Aboriginal languages in Victoria.
"We are proud to work with Aboriginal Victorians in revitalising and promoting their own languages within their own communities and across our state," Ms Tierney said.
The general public's interest in Aboriginal languages is growing.
Education Department figures show that a record 1867 state school students were enrolled in Aboriginal languages last year, up from just 23 students in 2011.
Year 12 student Jordan Gould is not among the official surge, but has embraced Peek Wooroong through regular contact with Mr Eccles.
Part-way through a digital media and animation course at South-West TAFE, he is creating a software program that translates English words into Peek Wooroong.
He and Mr Eccles have developed the habit of texting and greeting each other solely in their ancestral language.
It "keeps the mind warm", Mr Gould says.
"We want to get to a point where me and him only speak in the language," he says.
Adam Carey is Education Editor. He joined The Age in 2007 and has previously covered state politics, transport, general news, the arts and food.