"I've undertaken to lead the party and my country at a difficult time and I'm going to continue to do that. I believe it's my responsibility to do that and I think that it's our job to get Brexit done on October 31st but to move the country on," he told BBC Television.
Asked if Britain could leave on October 31 without a deal, Johnson replied: "Of course we can."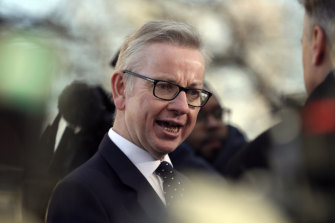 But he refused to say how, suggesting instead that a shift in attitude towards Britain's protracted exit had taken place amongst key EU member states.
"There's a strong view across the EU that it's time to move on … I don't think they really believe that as it were the UK can now just go back in or a second referendum would somehow solve it," he said.
Loading
Johnson was backed by his key Brexiteer ministers who delivered set-piece speeches on the opening day of conference on Sunday (Monday AEST).
Michael Gove, who infamously derailed Johnson's bid to become leader after the referendum in 2016 by betraying him, rallied behind the prime minister.
"I trust Boris, to do what we've waited too long to do – get a deal – get Brexit done!"
Gove is in charge of the goverment's No Deal preparations. He warned of turbulence ahead.
"We cannot anticipate every risk and cannot guarantee against some turbulence, which is why would much prefer us to secure a deal with the EU before October 31st."
Foreign Secretary Dominic Raab said the threat of a Jeremy Corbyn-led Labour government was imperative – even greater than Brexit, which has paralysed British politics for more than three years.
"I say this as a passionate Brexiteer, there are some things bigger than Brexit, and keeping that lot out of Downing Street is one of them," Raab said.
He warned rebel Tory MPs who are said to be contemplating a temporary anti-Brexit coalition government that "history will never forgive you".
Latika Bourke is a journalist for The Sydney Morning Herald and The Age, based in London.