Well, it's been real. Just over 11 degrees in the city now after our coldest October morning since 1984. Top of 22 predicted for the day.
Keep an eye back on The Age's website for the RBA decision at 2.30pm.
We'll be back bright and early tomorrow morning. Have a fabulous day. Be kind to each other.
We have winners. First past the post for this morning's Target word were: Homer J, Susan Munday and Harriet Shing (MP for Eastern Victoria).
We'll print the solution tomorrow. Letters below for those still trying to solve it.
Big delays now on the Tulla. Three left lanes are closed outbound near the Bell Street entry due to debris on the road.
Apparently a truck has lost a load of gravel and dirt. Crews are on site cleaning up but motorists should leave extra time to get to the airport.
More delays for train commuters, this time on the Werribee line. Now up to 25 minutes due to a track fault near Williams Landing.
Services will depart altered platforms between Laverton and Werribee. Select services will terminate and originate at Laverton. Check platform displays and listen for announcements for updates.
With the grand final behind us, the AFL's silly season is about to begin.
Ahead of trade period, Jimmy Bartel joins Michael Gleeson and Jake Niall to preview all the player movement, deals and discussions.
The Age Real Footy Podcast will have daily episodes throughout trade period. Listen via iTunes, Google Podcasts, Omny and RSS.
Sure it's been cold. But then there's this. Melbourne's kinda nice huh?
It's just getting too easy. Cathy Wilcox on Donald Trump: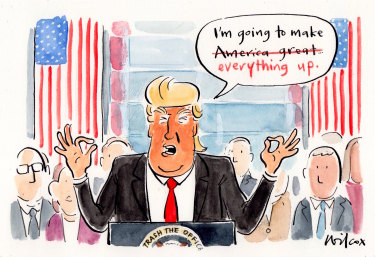 In case you missed it earlier, a 76-year-old woman has fought off a would-be robber in Dandenong.
The Doveton woman was at a shopping centre when the man grabbed her handbag out of a shopping trolley just after 9am on September 10.
The woman grabbed it back and a struggle ensued. The man fled empty-handed. The woman injured her hand.
Police have released a picture of a man who might be able to assist with their inquiries.
Anyone with information can call Crime Stoppers on 1800 333 000.
Have you solved this morning's Target word yet? Given the number of correct answers, we're putting it at two on the Express Target difficulty scale.
Our resident clue provider says push on with this one and you'll get it.
Today's letters are: E V S P E E R E R. Send your answer via email or Twitter. We'll print the names of the first across the line just before 9am.