The Korea Professional Golfers' Association announced that he would be suspended despite his apology and fined him $US8350 ($12,464).
The suspension is effective immediately.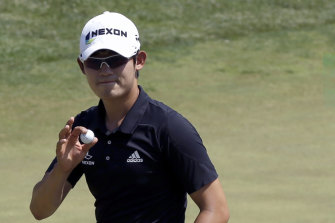 The 29-year-old golfer, who played on the PGA Tour in 2011, went on to win the tournament, his second of the season, and the suspension came despite images of him kneeling in contrition.
In a unanimous vote, members of the KPGA said in a statement (via the Golf Channel) that the golfer had "damaged the dignity of a golfer with etiquette violation and inappropriate behaviour".